As with any job application, putting your best foot forward is always advantageous. You must establish a great impression even before the employer sees you personally. That is why it is imperative to understand that resumes are vital to your success!
A traditional paper resume is so passé nowadays. It would be best to keep up with the trend to stay relevant and innovative. And there is no better way to showcase a modern curriculum vitae than through a WordPress website. 
With the right theme, you can build an online profile with a beautiful and responsive layout. Not to forget, WordPress templates are already SEO-optimized. Thus, it is far easier for your resume to get on top of web searches and get noticed. 
These 16 WordPress themes we collated herein are our top picks for the best resume templates. These themes are feature-rich, highly customizable, and easy to install. Guaranteed, they will make your professional CV beyond just the ordinary!
Summary Table
Neve
Neve is another WordPress theme that offers free and pro plans. As always, the free versions only come with basic features that should work well for simple purposes like resume websites. Nevertheless, the theme's pro plans are obviously much better and more advanced.
Price
Starts at $99
Key Features
Available in free and pro plans
Supported by Gutenberg editor
Extensive demo library
Lightweight and fast speed performance
WooCommerce-ready
The theme is fully supported by Gutenberg and other popular page builders, including Visual Composer, Elementor, Divi Builder, and others. Hence, layouts and customization are way more accessible and extensive. For example, there are over 100 ready-to-import starter sites you can use to kickstart your website instantly. Even more exciting, there are new designs added to the library monthly.
Fun fact: Neve is a lightweight theme with a PageSpeed performance result of 100% speed grade and 1 second loading time.
Ultra
Ultra is equipped with plenty of pre-designed skins and demo websites that you can literally install in just a few minutes or so. There are different professional templates that will fit every kind of niche, including online portfolios and resumes. Its drag-and-drop page builder also lets you create unlimited layout options and customizations.
Price
Starts at $59
Key Features
Supported by drag-and-drop page builder
More than 60 professional layouts
12 free bonus add-on plugins
WooCommerce-ready
Flexible pricing schemes
The theme is also inclusive of 12 free add-ons that are worth over $100 in value. Functions like Image Pro, Slider Pro, audio, progress bar, and timeline are excellent tools to highlight your professional experiences. Meanwhile, you can use the contact, maps, and typewriter plugins to improve communication and styling. 
Fun fact: Ultra is fully compatible with the WooCommerce plugin. This tool allows you to quickly turn your website into an e-commerce platform so you can offer freelance services if you wish so.
Profile
Profile is designed to be an online hub for your professional portfolio and resume. At an all-access plan of $99 per year, you can now fully download all the Organic themes and plugins. Then, take advantage of more than 20 Gutenberg blocks and pre-made templates to build the perfect web layout.
Price
Starts at $99
Key Features
All-in access plan
Organic builder widgets
More than 20 Gutenberg blocks
Social home page feature
Compatible with the WooCommerce plugin
There are also plenty of widgets to highlight your skills and experiences. For example, you can create unique sections for your profile, portfolio, personal blogs, client testimonials, and more. These pages help establish your professional credibility and efficiency.
Fun fact: The Profile theme is supported by various social media platforms, including Facebook, Twitter, Pinterest, LinkedIn, Youtube, and more.
Certy
Certy is an online CV and resume template with clean yet eye-catching elements. The theme comes with a decent range of demos, pages, sections, and layouts, giving users unlimited combinations and choices. In addition, its flexible resume builder makes all the features possible to tailor-make.
Price
$39
Key Features
Powerful resume builder
Unlimited color variations
Data and editor section
Microformat blog page
Cross-browser compatibility
Never make your resume plain and boring. Instead, turn your skills into powerful visuals. For instance, you can creatively represent your data using the line, dot, or circle bars. The information is easily read at a glance and will leave a more significant imprint. 
The timeline section, on the other hand, is ideal for highlighting your education and work experiences. This tool lets you organize the details by date or year. Thus, making your professional journey easier to follow.
Fun fact: Certy's blog page can be a suitable avenue for you to upsell your capabilities further. Or, use this platform to give updates related to your niche or job.
Sam Martin
Sam Martin is a personal portfolio WordPress theme suitable for building a web-based CV for any profession. The theme comes with 12 pre-built demos and 3 layout options. The About Me page gives a brief overview of who you are. Meanwhile, use the skills, knowledge, work experiences, portfolio, services, and testimonial pages to establish your identity further. 
Price
$59
Key Features
Visual Composer page builder
12 prep-built home pages
3 layout choices
Availability Calendar tool
Compatible with the WooCommerce plugin
The Availability Calendar is a unique feature of Sam Martin. This productivity tool allows you to plot your vacant schedules. Thus, giving your potential clients an outlook on your work calendar. 
Fun fact: Sam Martin is WooCommerce-ready. The product and service pages help in supporting your online store.
Pile
Pile is a creative portfolio theme that is supported by a unique page builder. This plugin allows users to control the setup and customization fully. You can add various elements, blocks, layouts, and templates to build a resume website that best highlights your skills and qualifications.
Price
Starts at $225
Key Features
Unique page builder
Parallax scrolling tool
Integrated with WPML plugin
Fully supported by the WooCommerce plugin
SEO-ready
The theme also has the flexibility to adapt as an e-commerce platform. It is compatible with the WooCommerce plugin to allow the selling of products and services. This functionality is helpful in generating revenue within your website.
Fun fact: Pile is integrated with the WPML plugin to allow easy translation of content to different languages.
Hired
Hired is generally designed to exhibit professional resumes and business contact information. Thus, making the website a safe and secure platform between you and potential employers or clients. The theme is available in the free version. But for a very affordable premium price of $25, you can maximize the features to give you a better user experience. 
Price
$25
Key Features
Video homepage capability
Products and service pages
Free theme updates
Priority support
Available in free and premium plans
Unlike other themes, Hired is capable of creating a video homepage. This makes your profile stand out better right from the start. It also gives out the impression of creativity and professionalism. 
Fun fact: Hired premium theme comes with priority customer support service. All concerns are directly forwarded to the support staff for prompt resolution.
ShiftCV
Shift CV is a modern contemporary resume, portfolio, and personal blog theme. It features a simple yet fun and trendy design to depict a feel-good vibe without overpowering the content. Currently, there are 7 pre-made demos you can choose to suit your personality best. 
Price
$69
Key Features
Supported by Elementor page builder
7 pre-build demos
Functional shortcodes available
Dark mode version
Print and download CV option
Unlike other themes, the ShiftCV features a dark mode version. The users can easily switch between the default and the dark mode settings as they see fit. The choice to lower the screen lighting is beneficial for reducing eye strain. 
Fun fact: ShiftCV features a print and download CV tool. This tool allows prospective employers to secure a soft or hard copy of your resume on file. 
The Thinker
The Thinker is actually marketed as a modern blog theme. Nevertheless, its design is highly versatile and reasonably accommodates any other purpose, including a resume website. In addition, the Elementor page builder plugin will make sure you can create the best layout for your professional profile.
Price
Starts at $59
Key Features
Supported by Elementor page builder
Showcase page template
WCAG 2.0 AA standard compliant
SEO-optimized
WooCommerce-ready
The showcase template gives you a dedicated page highlighting your skills and knowledge. This section is excellent for displaying your projects and services. Moreover, such pages will provide your potential employer or clientele with something they can readily see to gauge your efficiency. 
Fun fact: The Thinker is compliant with the WCAG 2.0 AA standards making it highly accessible for any user.
Resumee
Resumee is a very clean and minimalist online resume theme. The simplicity of the design makes the website appear very professional and straightforward. Nevertheless, it still has the advantage of having functional and responsive elements.
Price
Starts at $39
Key Features
Available in free and pro plans
Gutenberg-ready 
22 frontpage widgets available
Easy social links
7-day refund policy
Available in a free version, but you can definitely get more out of the $39 premium. More theme options, advanced widgets, HTML support, plugin compatibility, SVG generator, social functions, express support, and more. 
Fun fact: Resumee offers a 7-day refund policy. Only a few companies will let you try their theme for a week before committing to the purchase.
Corner
Corner is an all-in-one theme crafted for creative professionals. The flexibility of the theme's elements makes it suitable for building web-based resumes, portfolios, and personal blogs. The theme's integration with the WooCommerce platform also lets you monetize the website by turning it into an online shop for physical and digital products.
Price
Starts at $49
Key Features
One-click demo import
Compatible with the Block Editor and Elementor page builders
WooCommerce-ready
SEO-optimized
24-hour premium support
The theme is fully supported by the Block Editor and Elementor page builders. There are also plenty of flexible layouts, templates, sections, fonts, typography, color schemes, and more. Thus, creating the perfect website to showcase your professional skills is easy as 1-2-3 with the Corner theme.
Fun fact: The Corner support team promises to deliver prompt attention and resolution to your concerns within 24 hours.
Parallax
Parallax is a theme essentially conceptualized to exhibit the two WordPress trends – the single-page design and the parallax scrolling. These two styles give your resume website a modern and dynamic approach. It can turn plain text and images into more creative and exciting representations.
Price
Starts at $59
Key Features
Themify page builder
Single and multi-page layout design
Highlights parallax scrolling effect
WooCommerce-ready
30-day money-back guarantee
The theme is powered by Themify's drag-and-drop page builder. This tool allows you to create unlimited custom styling, layout combinations, backgrounds, animations, and more. With this multi-purpose template, you can build a single or multi-page resume. Then, add various blocks and elements like lists, grids, progress bars, contact pages, etcetera to make your resume organized and attractive.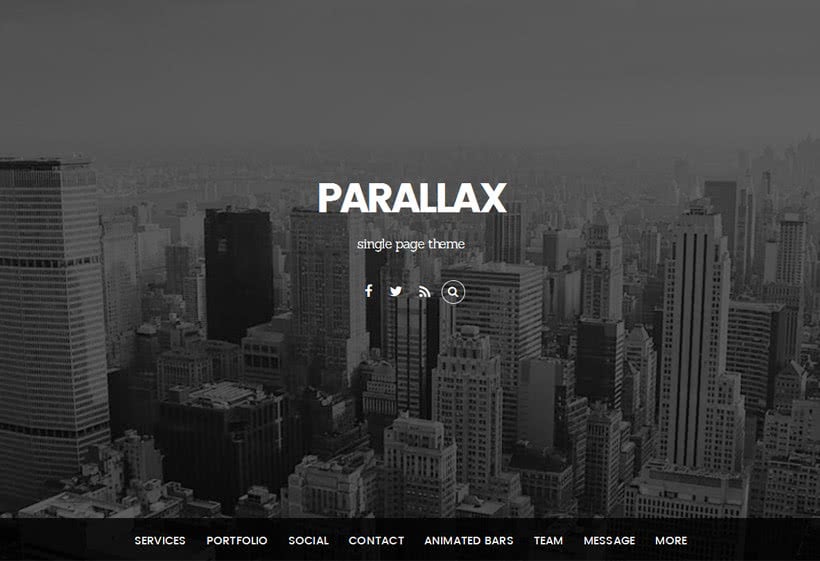 Fun fact: Parallax offers a 30-day money-back guarantee for superior customer satisfaction.
Ikonik
Ikonik is a creative resume theme designed to make your online identity bold and unique. If you want to make a statement, then this is definitely an excellent choice. It contains all the essential elements to outline all your skills, knowledge, and experiences. Yet, at the same time, it has a fantastic balance between form and function.
Price
Starts at $59
Key Features
Powered by Elementor page builder
One-click demo import
Supports various media file types
Ajax-enabled
Over 30 social icon integration
The theme supports various media file types. Hence, you can easily incorporate images, videos, and audio playlists into your web content. In effect, this makes your resume more engaging and well-rounded.
Fun fact: Ikonik is integrated with more than 30 social icons. This feature allows you to connect to a broader range of audiences and potential employers or clients.
Kerge
Kerge is a resume and CV theme built to promote all kinds of professionals. The theme's drag-and-drop page builder enables you to create layouts and pages unique to your style. You can also use the one-click demo installer to build a ready-to-use website as quickly as 2 minutes.
Price
Starts at $39
Key Features
Full-fledged drag-and-drop page builder
One-click demo installer
Over 35 shortcodes
Available in light and dark versions
SEO-ready
More than 35 shortcodes and pre-made pages are also available for you to set up an advanced resume. Features like timelines, progress bars, lists, and grids are a few ways to display your information creatively. You can also incorporate the client list and testimonial pages to strengthen your credibility. 
Fun fact: The Kerge theme is available in light and dark versions.
Arter
Arter is a modern CV and resume theme designed to promote the web presence of professionals. It is compatible with the latest Elementor page builder to help customize the layout and page settings. Moreover, you can choose between the light or dark theme versions whichever suits your preference best.
Price
Starts at $39
Key Features
Supported by Elementor page builder
Available in light and dark versions
Integrated with ACF Pro plugin
WooCommerce compatible
24/7 customer support
The theme is integrated with the ACF Pro plugin, enabling you to control the custom field data fully. In addition, you can combine different elements and animation effects to organize and make your information more eye-catching. As a bonus, Arter is also WooCommerce-ready.
Fun fact: Arter received regular updates to keep the theme in tip-top performance and secured.
Wezen
Wezen is very similar to the Kerge theme since it is essentially made by the same developer, LMPixels. The significant advantage of Wezen though is its unbeatable price point. Its regular license costs only $19 compared to Kerge's $39. This is a totally cost-effective choice, especially for those who want to avail of the advanced features but are on a tight budget. 
Price
$19
Key Features
Supported by Elementor page builder
More than 45 customizable elements
Complete blog post system
Available in light and dark versions
24/7 customer support
Despite the low price, you can guarantee that the theme is still equipped with premium plugins and functionalities. It offers many options for creating and customizing a competitive online resume. Wezen also features a complete blog system, including a sidebar for recent blog posts, archives, and categories.  
Fun fact: Choose between Wezen's light and dark theme versions to support eye health and enhance readability.
FAQs
Why is WordPress good for resumes? 
Beginner-friendly.
You don't need to be a coding expert to build a WordPress website. It is basically designed to be intuitive and user-friendly. Hence, is very much suitable for both non-technical and professional users. 
File Compatibility.
WordPress supports various media file types. Hence, this gives you greater versatility in incorporating different content into your website. You can be as creative as you want in showcasing your skills through images, videos, slideshows, audio playlists, and more.
SEO-friendly.
An SEO-ready WordPress theme will help your online CV gain more organic traffic and attention from potential employers. The clean coding enables your website to load faster and display better content. In addition, you can also install SEO plugins to create unique meta description templates. Thus, making your site easier to index and boost its ranking. 
Security.
WordPress website is built to keep your data safe and secure in the best possible way. Just make sure to do your part as well to update your passwords and plugins consistently. You can also activate several security features, like two-factor authentication, to add extra protection. 
Cost Efficiency.
WordPress on its own is basically free since it is open-source software. Nevertheless, you may still need to shell out a few bucks for the domain, web hosting, and premium themes and plugins. 
Where can I get free WordPress themes?
There are plenty of free themes like Astra, OceansWP, Neve, Mesmerize, and Indiana to name a few. Nevertheless, you should know that the free plans only come with the mere basic features. Ultimately, you might still need to upgrade and purchase add-on plugins to enjoy premium functionalities. That is why some companies also refer to these themes as "freemium".
Conclusion
Out of the 16 we reviewed, the Neve theme by ThemeIsle is our #1 choice! It is ultra-versatile, making it a fantastic option for building an online resume and any niche in general. From design to budget, the control is all yours to make!