Are you searching for the best WordPress theme for your plumbing and construction business? 
Don't worry! You are exactly on the right page.  
Herein we have reviewed 12 of the best themes crafted to support the effective growth of your business. They are full-packed with features that boost productivity and sales. In addition, many compatible tools will strengthen your online presence to promote your services better. 
On top of that, the template designs are professional-looking and highly customizable at the same time. Ultimately, it gives you the perfect balance of form and function.
Powerful yet quick and easy to install. No need for coding!
Summary Table
Our Top 12 Picks for WordPress Plumbing Themes
Plumbit
Plumbit is a modern WordPress theme with clean and simple aesthetics. Apart from plumbing services, it also works great for websites for electrical works and air conditioning and heating system repairs. There are 6 homepages you can choose from to suit different niches. Moreover, the Elementor page builder supports the theme for easy customization.
Price
$69
Key Features
Supported by the Elementor page builder
One-click demo import tool
Functional FAQ page
Contact Form 7-ready
Compatible with the WooCommerce plugin
No. of Times Sold
474 sales
Review Stars
4.69 out of 5 stars
Unlike others, this theme includes a separate FAQ page. This section provides your customers with practical answers to the most common questions about the services and pricing. Having this on your site can minimize the long queue of online inquiries.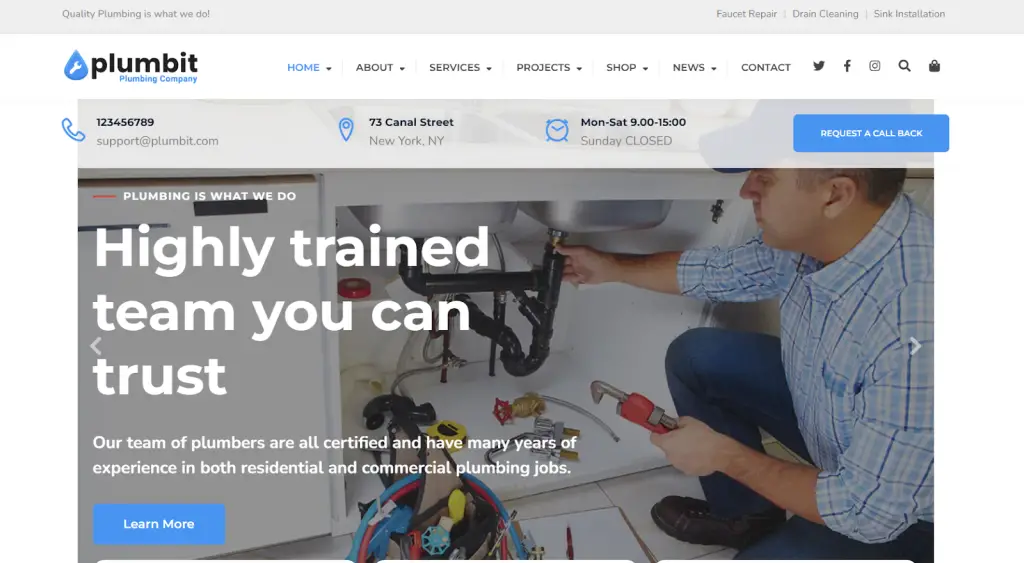 Fun fact: If your inquiry is not on the FAQ list, Plumbit has an "Ask A Question" form to send specific customer concerns.
Plumbit is fully compatible with the WooCommerce plugin. This e-commerce tool makes your website an excellent platform to feature and sell various plumbing parts and fixtures. 
Plumbing Co
Plumbing Co is a multi-purpose theme for plumbing, electricity, and other housework websites. The Elementor page builder plugin fully supports this theme. In addition, its drag-and-drop tool lets you create web pages and blog posts faster and more efficiently.
Price
Starts at $83
Key Features
Powered by Elementor page builder
Jet Elements plugin included
Compatible with the Ecwid shopping cart plugin
Fully responsive design
24/7 lifetime support
No. of Times Sold
466 sales
Review Stars
4.50 out of 5 stars
In addition to that, the Jet Elements plugin is also readily integrated into the theme. This Elementor tool offers 42 widgets that enable you to create more impressive content. It includes an advanced carousel, an animated box, headlines, image comparisons, pricing tables, testimonials, team members, and more.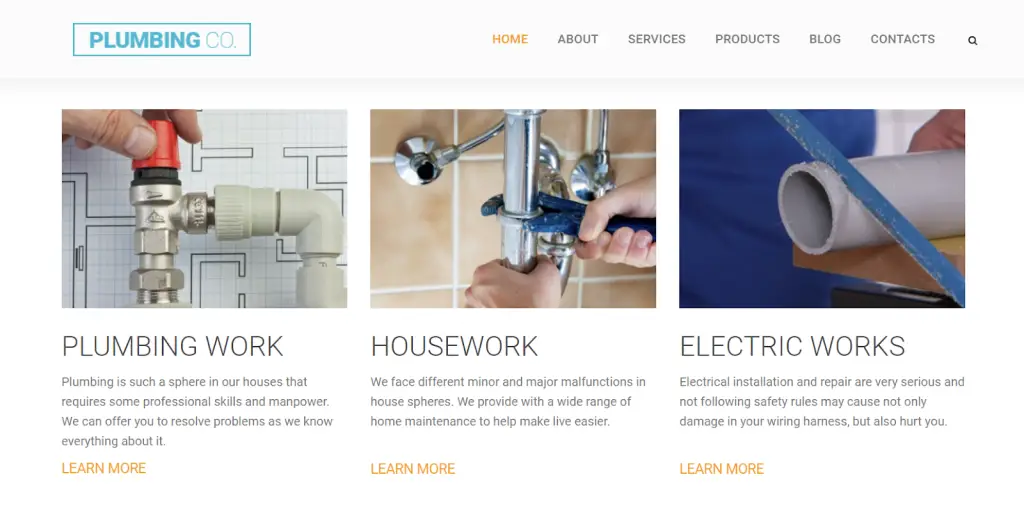 Plumbing Co is compatible with the Ecwid shopping cart plugin. This e-commerce solution lets you turn your website into an online store. As a benefit, customers can checkout and pay for their transactions more conveniently.
Fun fact: The theme also comes with free stock images you can use to enhance your posts.
Plumbing Spl
The Plumbing Spl theme specifically caters to business websites for plumbing and household repair companies. It comes with 10 pre-built demos you can readily use and install in just one click. In addition, you can take advantage of its compatibility with Visual Composer to customize the pages with live previews.
Price
Starts at $49
Key Features
Powered by Visual Composer page builder
Supported by  Live Customizer plugin
10 ready-made demo websites 
Compatible with the WooCommerce plugin
WPML-ready
No. of Times Sold
1,154 sales
Review Stars
3.90 out of 5 stars
Turn your website into a fully functional online store using the WooCommerce plugin. This integration lets you sell your products and services so customers can easily add them to their carts, checkout, and pay. It is so convenient and ensures the successful completion of sales transactions.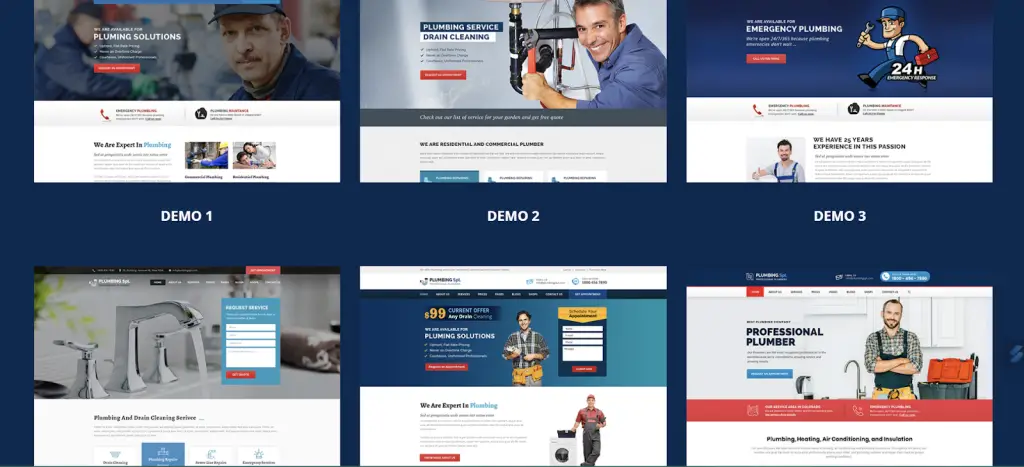 Aside from presenting your team, there is also a dedicated section for career postings. This page lets job candidates apply for the job position directly on your site. Doing so makes the hiring process easier, faster, and more cost-effective.
Fun fact: Plumbing Spl offers different payment methods, including cash, cheque, electronic payment, and credit and debit cards.
Plumber Zone
Plumber Zone is more than just a plumbing theme. It can also be suitable for most household construction and repair services. With Visual Composer page builder integration, you can create a website that best suits your business requirements.
Price
$59
Key Features
Powered by Visual Composer page builder
Integrated with Contact Form 7 plugin
Supported by MailPoet Newsletter for WP
Compatible with WooCommerce plugin
SEO-ready
No. of Times Sold
119 sales
Review Stars
4.12 out of 5 stars
Right off the home page, a rundown of the services is already highlighted for visitors to see. Next to it, you can also showcase your best projects from previous clients. This strategic function helps to establish the credibility and quality of your work.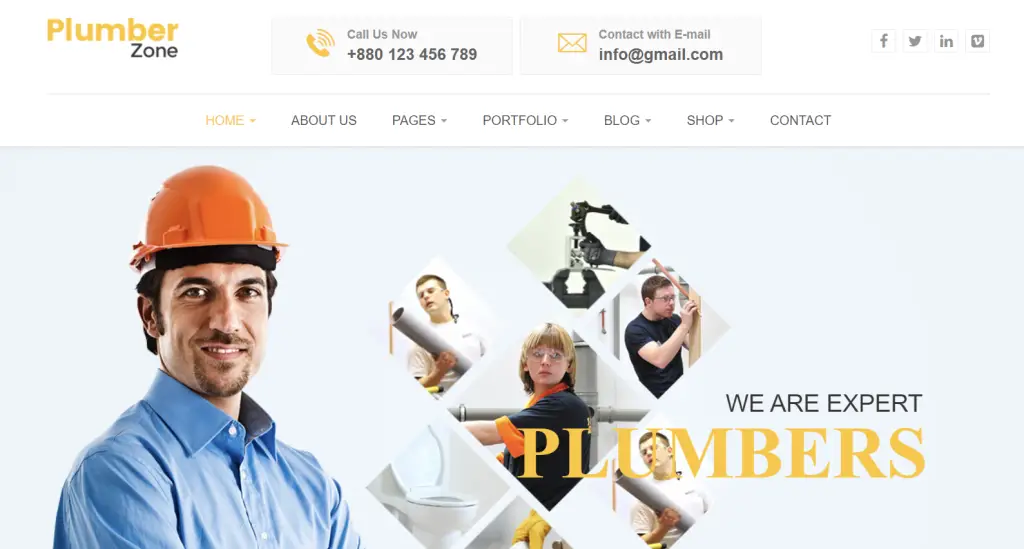 Fun fact: A "Get A Quick Quote" form is available to easily let customers request cost estimates for specific services.
Plumber Zone also features a designated page for blogs. You can post informative articles and the latest updates related to your services. In addition, the theme integrates fully with the MailPoet Newsletter plugin. This tool is excellent for your marketing strategies. You can send your subscribers promotions, deals, and other curated content to keep them updated.
Plumco
Plumco is a modern theme elegantly designed for various plumbing services. It is supported by the Elementor page builders to let you customize each web section exactly the way you like them to. To date, there are 3 pre-made demos available, and more to come. Even better, you can take advantage of its one-click demo importer to quickly install and set up the templates.
Price
$29
Key Features
Powered by Elementor page builder
3 pre-built demos and 20+ inner pages
One-click demo importer
Compatible with the WooCommerce plugin
Integrated with WordFence Security plugin
No. of Times Sold
206 sales
Review Stars
–
Fun fact: Plumco also allows you to upgrade your default page builder to an Elementor Pro version. 
The theme is also compatible with the most popular WooCommerce plugin. This software enables you to convert your website into an effective e-commerce platform. In effect, you can also sell parts and tools for plumbing.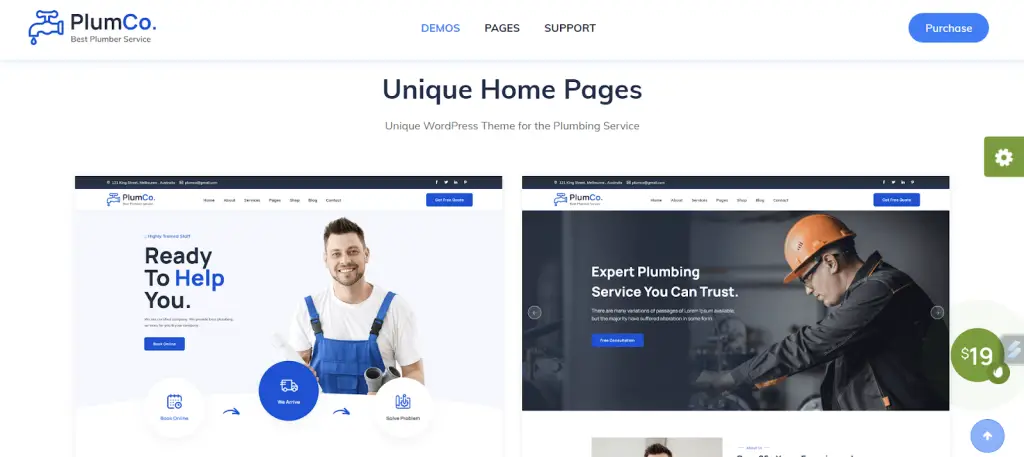 Plumco is also strict in maintaining the security of your website. Hence, it is supported by the WordFence Security plugin. This scanner tool alerts you if your site is at risk of being compromised by malware or malicious files.
ProHauz
ProHauz is crafted for home improvement and maintenance services websites. Thus, it is a perfect fit for plumbing and construction businesses. There are at least 6 pre-built demos to suit different types of services.
Price
$69
Key Features
Supported by the Bold Builder
Cost calculator plugin feature
Online service request form
Price list tool
Compatible with the WooCommerce plugin
No. of Times Sold
1,406 sales
Review Stars
4.42 out of 5 stars
The theme comes with a built-in cost calculator plugin. This tool is beneficial for providing your customers with a cost estimate for their chosen projects. Having this function also helps to hasten the transactions and prevent customer turnover.
In addition, the online service request form is another plugin worth having on your website. This feature lets your customers easily book appointments. The form already includes the necessary contact information and request details to make communication more efficient.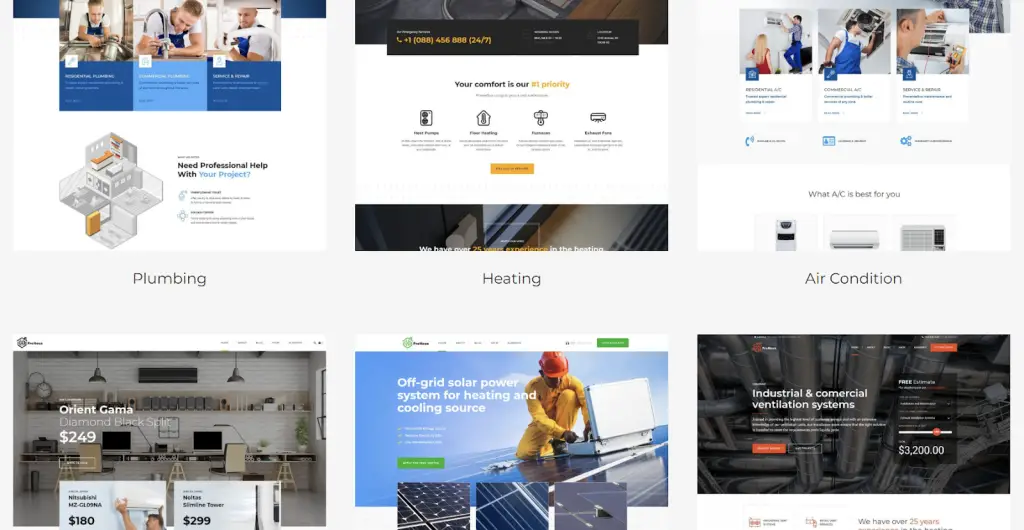 Just like others, ProHauz is also integrated with an e-commerce function. The theme uses the WooCommerce plugin to sell various products and services online. 
Fun fact: You can also install the price list feature to provide easier access to pricing details.
The Plumbing Parts
The Plumbing Parts is a plumbing theme designed with stylish modern appeal. It is supported by the WPBakery plugin, making page building easier with its drag-and-drop functionality. In addition, there are five available ready-to-install demo layouts to choose from. 
Price
$69
Key Features
Supported by the WPBakery page builder
Built-in online currency switcher tool
Compatible with the WooCommerce plugin
WPML-ready
SEO-optimized
No. of Times Sold
883 sales
Review Stars
4.94 out of 5 stars
The theme itself is WooCommerce-based. Thus, making it perfect to use mainly as an online shop for your business. So, aside from offering various installation or repair services, you can also take advantage of selling different spare parts, tools, and fixtures. 
But unlike other themes, The Plumbing Parts has a built-in online currency switcher. This feature lets users quickly shift between US dollars to the British pound sterling or GBP. In addition, the option makes it super convenient for non-US customers to pay in their preferred currency.
Fun fact: The theme is also equipped with multi-language support. 
PlumberX
The PlumberX theme design caters to plumbing and other repair work businesses. It is powered by the Bootstrap framework, thus allowing your website to adapt to different devices. Moreover, this also enables cross-browser compatibility, including Chrome, Firefox, Edge, Safari, and Opera.
Price
$49
Key Features
Powered by Bootstrap
Cross-browser compatibility
Supported by Visual Composer and Elementor page builders
Compatible with the WooCommerce software
Native mobile application
No. of Times Sold
992 sales
Review Stars
4.81 out of 5 stars
The Visual Composer and Elementor plugins support the theme's page building. These advanced drag-and-drop tools let you easily customize your website's design and form. With over 70 different elements and blocks, there are plenty of ways to make your site unique and highly functional.
PlumberX is fully compatible with the WooCommerce plugin. This tool turns your website into a digital shop to sell your products and services. In addition, it provides a safe and secure platform for transactions between you and the clients.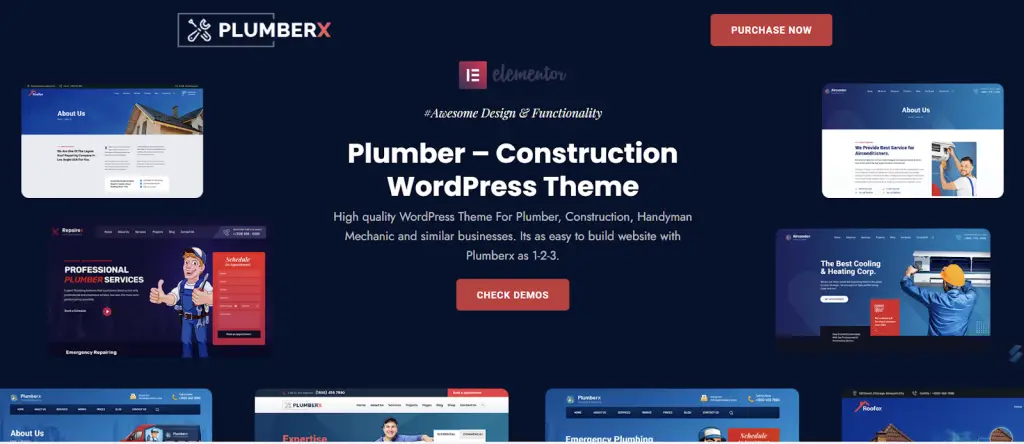 One greatly exciting thing is PlumberX's own native mobile app integration. The application is suitable for both iOS and Android smartphones. This feature enables you to enhance the visitor's mobile experience and accessibility to your website. 
Fun fact: PlumberX offers a 100% money-back guarantee. No questions asked!
Plumbing
More than the name implies, the Plumbing theme is also suitable for home repairs, building, and construction services. So, whether you are a one-person team or a firm or company, this WordPress template will be an excellent fit for your business website.
You can incorporate plenty of pre-built pages, elements, and layouts into your website. The Elementor visual page builder will simplify customization with just a few clicks and drags. 
Price
$69
Key Features
Supported by the Elementor page builder
Online booking system function
Before/After feature
WooCommerce-ready
SEO-optimized
No. of Times Sold
1,496 sales
Review Stars
4.56 out of 5 stars
The theme is built-in with an online booking system to make the transactions more convenient. This feature allows your customers to select their preferred date and time of appointment. Thus, ensuring the handyman and customer's schedules are matched to fulfill the service.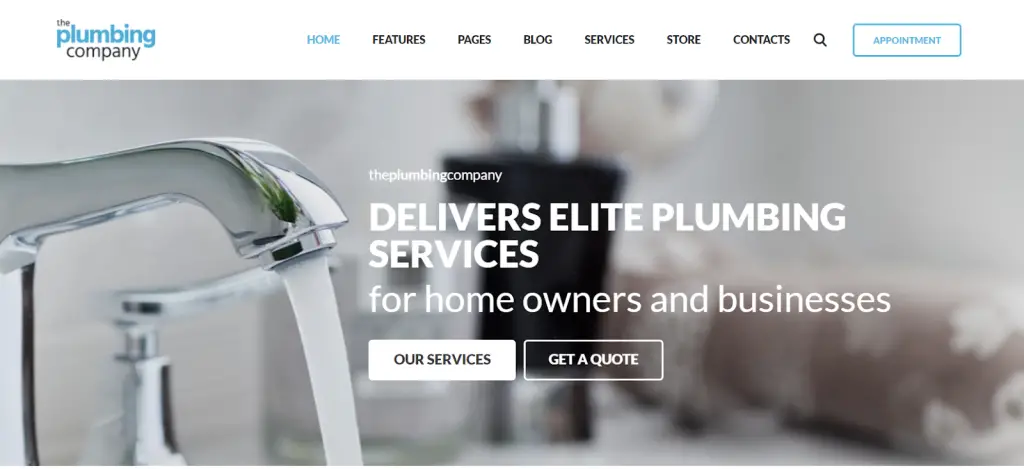 Unlike other themes, Plumbing features a Before/After page. This section showcases the photos of the project area before and after job completion. These actual images serve as proof of quality performance. Along with client testimonials, this will help establish solid credibility for your business. 
Fun fact: The Plumbing theme has social media integration that lets you share and link posts from your website to broaden your audience reach.
Kempner
Kempner is a plumber-specific theme created to promote the online presence of plumbing companies and agencies. It is fully supported by the Elementor page builder with a quick drag-and-drop function. The theme comes with three choices of home pages and more than 15 inner pages.
Price
$33
Key Features
Supported by the Elementor page builder
One-click demo import tool
Contact form-ready
Covid-ready
SEO-optimized
No. of Times Sold
149 sales
Review Stars
5.00 out of 5 stars
Compared to others on the list, this theme is not entirely designed as an e-commerce platform. Instead, it is more focused on making plumbing services more accessible online. That said, customers can quickly request a quotation or book an appointment using the contact form or direct phone call.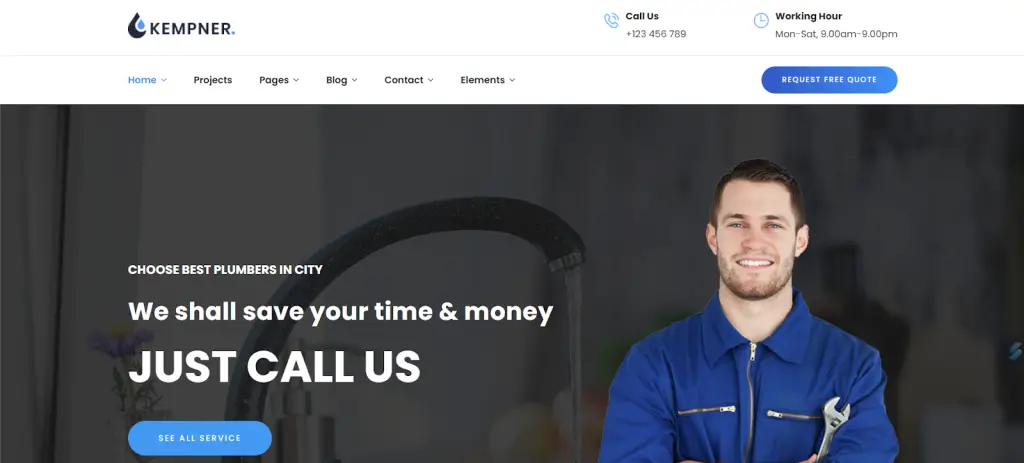 Fun fact: Kempner is also integrated with social media plugins to extend the audience reach further.
Kempner is one of those WordPress themes that incorporated the Covid policies into their system. The feature ensures that the business complies with the optimum health protocols. Thus, keeping both the customers and the plumbers safe against Covid infection within the project duration.
Plumbart
Plumbart is a theme most suitable for business websites in line with plumbing, air conditioning, and heating. The setup is actually pretty basic. Nonetheless, there are about 8 different color options available to give your site a suitable personality.
Price
$79
Key Features
8 color schemes available
Powered by Twitter Bootstrap
Cross-browser compatibility
Supported by a lead-capturing plugin
30 days money back guarantee
No. of Times Sold
–
Review Stars
4.00 / 5.00
The Twitter Bootstrap software powers the theme. This front-end framework makes your design layout highly responsive. Thus, enabling your website to intuitively adapt to various screen sizes, including desktop computers and other PDA devices.
Fun fact: Plumbart is also equipped with cross-browser compatibility, including Firefox, Chrome, iOS Safari, Android, Opera, Internet Explorer, and more.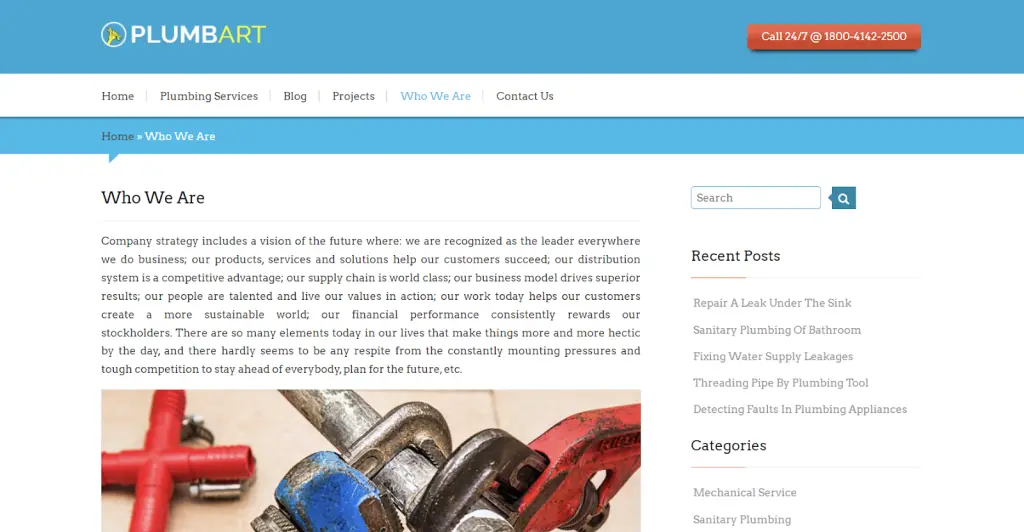 Plumbart has a lead-capturing plugin embedded within the theme. This tool helps you gather and store pertinent customer information like name, contact number, and email address. Collecting such details allows you to establish email subscriptions and boost sales marketing.
PlumWork
Price
$79
Key Features
10 color schemes available
AJAX-based options panel
Cross-browser compatibility
Integrated with a lead-capturing form
30 days money back guarantee
No. of Times Sold
–
Review Stars
3.80 / 5.00
PlumWork is a theme designed best for plumbers specializing in pipe fittings, drainage systems, sewage installations, and other similar jobs. The same with Plumart, this theme is also authored by  InkThemes.com. Both share some standard features. But, this one offers 10 built-in color schemes compared to 8 of Plumart.
The theme features AJAX-based options panels. This tool allows you to select and update features without reloading the page entirely. In effect, it minimizes interruptions giving your visitors a good user experience.
Fun fact: PlumWorks offers unlimited drop-down menu levels.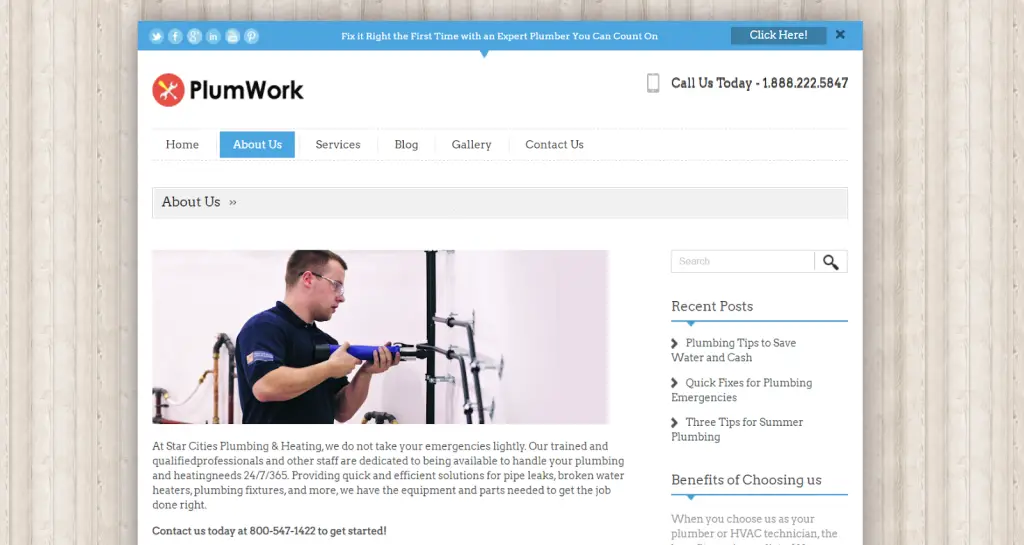 The attention bar feature at the topmost header of the page is another thing that sets PlumWorks unique from Plumart. You can use this section to post catchy marketing phrases or important announcements. Within the same area, social media icons can be displayed. This feature lets you link your blog posts and other content to different social platforms. 
Plumbio
Plumbio is a responsive modern theme most compatible with any type of plumbing and other water-related services. The Elementor page builder supports the theme. Additionally, the live front-end editor allows you to see the changes simultaneously.
Price
$59
Key Features
Powered by the Elementor page builder with a live editor
Integrated with the Nivo Slider plugin
Supported by Bootstrap plugin
WooCommerce-ready
SEO-optimize
No. of Times Sold
409
Review Stars
4.82 / 5.00
The theme is also built-in with Nivo Slider. This tool enables you to add amazing effects to your images. Thus, making your media files more interesting and eye-catchy.
Fun fact: The Bootstrap plugin supports Plumbio to make its content readily adaptive and responsive to different screen sizes. 
Plumbio is already integrated with google maps. This feature allows you to pin your business' physical location. Hence, making it easier for your customers to locate your address. Moreover, this also expands your audience reach to those customers who prefer to do business face-to-face.
Why is WordPress the best choice for plumber websites?
Having a website is vital nowadays in establishing your business credibility and project professionalism. Moreover, it also plays a significant role in strengthening communication and widening the reach to your clientele. And without a doubt, WordPress is just the perfect content management system for this job! 
First of all, it is super easy to use. No coding skills are required. So, even beginners and non-tech users will manage to install and take advantage of the many features this CMS tool offers.
Second, it is highly scalable. WordPress sites allow you to tweak every nook and cranny, from visual elements to specific functionalities. The opportunity to upgrade is endless. So, as your business grows, you have the freedom as well to level up your website. Integrate additional plugins and tools to extend the functions as needed along the way.
Third and fourth, it is secure and SEO-friendly. This is because the themes are built with clean and simple codes. And on websites, this is very important! Being so means the site is easier to maintain and update and more stable and secure against malware. Furthermore, search engines find clean-coded sites more readable. Hence, allowing it greater chances to become visible and rank higher.
What To Look For in A Plumber WordPress Theme?
Page Builder Compatibility
Check the compatibility of your chosen plumber theme with your preferred page builder plugin. This editing tool lets you create and design your website using a simple drag-and-drop operation. Nevertheless, not all page builders are created equal. Some keep things very simple, while others require some coding knowledge. So, choose what works better for your theme and your skill sets.
Customizability
Look for themes that will offer plenty of options for customization. This ability allows you to establish a design that best represents your company and values. At the same time, it gives your website a unique touch despite coming from a pre-built template.
Responsiveness
Responsiveness plays a significant factor in promoting excellent user experience. Thus, the theme must be able to react and adjust automatically to different screen sizes. Your website should work accordingly regardless if you are using a desktop, tablet, or smartphone device. 
Multi-Lingual Compatibility
Think global! Do not limit your website to a single language only. You can better widen your customer profile if you consider incorporating your website's translation into various languages as well.
Online Appointment Tools
The theme should be compatible to use with various appointment system tools. This tool makes your services more accessible and open for booking 24/7. Online bookings are also more convenient as the customers can instantaneously select their preferred date and time. Thus, minimizing the chances of cancellations due to conflicts in schedules. 
Form Builder Tools
Look for themes that let you create different forms for various purposes. For example, inquiry forms, quotation forms, contact forms, callback request forms, etcetera.
Online Payment System
Your sales will prosper better if you choose a WordPress theme that fully supports varied payment methods, including online. Enabling this feature gives customers more convenient options to settle their dues faster and more securely.
FAQs
Can I use Elementor With The Plumber Theme? 
Yes! Elementor is compatible with most WordPress themes. This tool works perfectly great for plumbing sites as it will help build pages faster and with more creative options. In the pro version, you can even add various professional widgets for more extensive customization and extended functionalities.
Are there free plumber themes for WordPress?
Yes! There are also free WordPress themes that will suit a plumbing service website. However, the features and functionalities are more likely limited than that of a pro version. Nonetheless, this should work just fine, especially for beginners and those with budget constraints.
Conclusion
Among all the 12 themes we reviewed herein, PlumberX is our all-time favorite. This WordPress theme is perfect for plumbing and other home improvement services. It is feature-rich, with functions and tools that can best accommodate the sales and marketing of your business. 
PlumberX is also compatible with all popular web browsers. But even more interesting is that the theme has a native app. The app gives users an alternative platform to access your website and conveniently avail of your products and services.
if you like this article, you might also like these reviews: WordPress Themes for Roofing and Tech Blog.