I'll be honest, not everyone who needs their roof repaired likes using the phone to call you. To reach more customers to scale your business, you need a website. In this blog post, I'll explore the top WordPress themes for roofing to get your roofing company more leads and more work!
Also, the simplest ones to set up, because let's face it, time is money. Why bother learning to be a developer when you can get a quick, easy solution? Let's go.
In a hurry? No worries! My top recommendation is the Roof theme, or for comparison, here's a quick breakdown. Want more information? Scroll down.
| | | |
| --- | --- | --- |
| Theme Name | Price | Star Rating |
| 1 Roof Theme | $76.63 USD for 12 Months | 4.92/5 |
| 2 Roofix Theme | $43.63 USD for 12 Months | 4.72/5 |
| 3 Renovation Theme | $76.63 USD for 12 Months | 4.4/5 |
| 4 RenoWise Theme | $90.38 USD for 12 Months | 4.54/5 |
| 5 Divi Theme | $89 USD for 12 Months | 4/5 |
| 6 Rufers Theme | $43.63 USD for 12 Months | 4/5 |
| 7 Shelder Theme | $32.63 USD for 12 Months | 4.5/5 |
| 8 Roof Repair Theme | $87 USD for 12 Months | 4.7/5 |
| 9 Eco Roofs Theme | $62.88 USD for 12 Months | 4/5 |
| 10 HomeRoofer Theme | $21.38 USD for 12 Months | 4.9/5 |
What Is The Best WordPress Theme For Roofing?
Here is my detailed review of the best WordPress themes for roofing. I'll break down their key features, and other need-to-know details like price, and how they compare against each other.
I've also chosen the ones that are the easiest to set up and look the most professional. Because you want to make a good first impression!
Roof
The Roof WordPress theme is tailored specifically for roofing contractors and aims to meet the needs of these businesses. With customizable, pre-designed options for every page, it is quick and easy to set up a professional website. In addition to being visually appealing, the Roof theme is optimized for search engines, helping your website rank higher on Google.
Price:
$76.63
Creator:
Victor Themes
Key Features:
Great header designs give your customers what they need in one glance
Looks good even on the smallest screen
Creates a portfolio of your existing work
Constantly updated with new capabilities
Compatible with many plugins so you can build out your website's features.
No. of times sold:
646
Review Stars:
4.92/5
Roofix
Look no further than the Roofix WordPress theme – the ultimate solution for your roofing company's online presence. With its user-friendly design and customizable layout, you'll create a website that looks and feels like it was built by a pro (even if you're not one). And don't worry about the technical stuff – the Elementor Page Builder makes it a breeze to drag and drop your way to a great website. Plus, with over 50 ready-to-use templates at your fingertips, you'll have your site up and running in no time. 
Price:
$43.63
Creator:
Radius Theme
Key Features:
Responsive support
Lifetime updates that include new features and a better user experience
Optimized for showing up in the top Google results
Designed to be user-friendly for the customer and website owner
Tutorials for almost everything you need to know
No. of times sold:
1003
Review Stars:
4.72/5
Renovation
This responsive and visually appealing WordPress theme will make your business stand out from the competition. With seven easy-to-customize designs for your homepage, you can make your website as unique as your business. And with WooCommerce compatibility, you can take payments online – talk about impressing your customers! But the Renovation theme doesn't just stop at aesthetics – it also includes a built-in pricing cost calculator to help you provide top-notch service to your clients. Plus, with its responsive design and lightning-fast loading speed, your website will look great on any device.
Price:
$76.63
Creator:
ProgressionStudios
Key Features:
A drag-and-drop builder for every page
Add extra features like a map of where your business is or a slideshow of your best options
Easily add a contact form
Customer service is excellent and readily available.
No. of times sold:
2508
Review Stars:
4.4/5
RenoWise
RenoWise has got you covered (pun intended). With its sleek, functional designs and powerful features, RenoWise helps you turn your WordPress site into a roofing repair and maintenance powerhouse. Need to schedule appointments, calculate payments, or keep track of customer info? No problem! RenoWise makes it easy to streamline your business and keep your customers happy.
Price:
$90.38
Creator:
BoldThemes
Key Features:
A before/after image gallery to show the results of your best work
Mobile-responsive
Loads fast
Eye-catching icon designs, and it's easy to use
No. of times sold:
1145
Review Stars:
4.54/5
Divi
Why settle for a generic, cookie-cutter website when you can have a one-of-a-kind masterpiece with Divi? This premium theme and page builder plugin gives you all the tools you need to make your roofing company's website stand out from the competition. With Divi, you can easily customize every aspect of your site, from the layout to the colors and fonts.
Price:
$89
Creator:
Elegant Themes
Key Features:
Easy customization
Built-in forms for collecting customer inquiries about the services you offer
Compatible with WooCommerce
Easily handles large menus
Great customer support
No. of times sold:
21,719
Review Stars:
4/5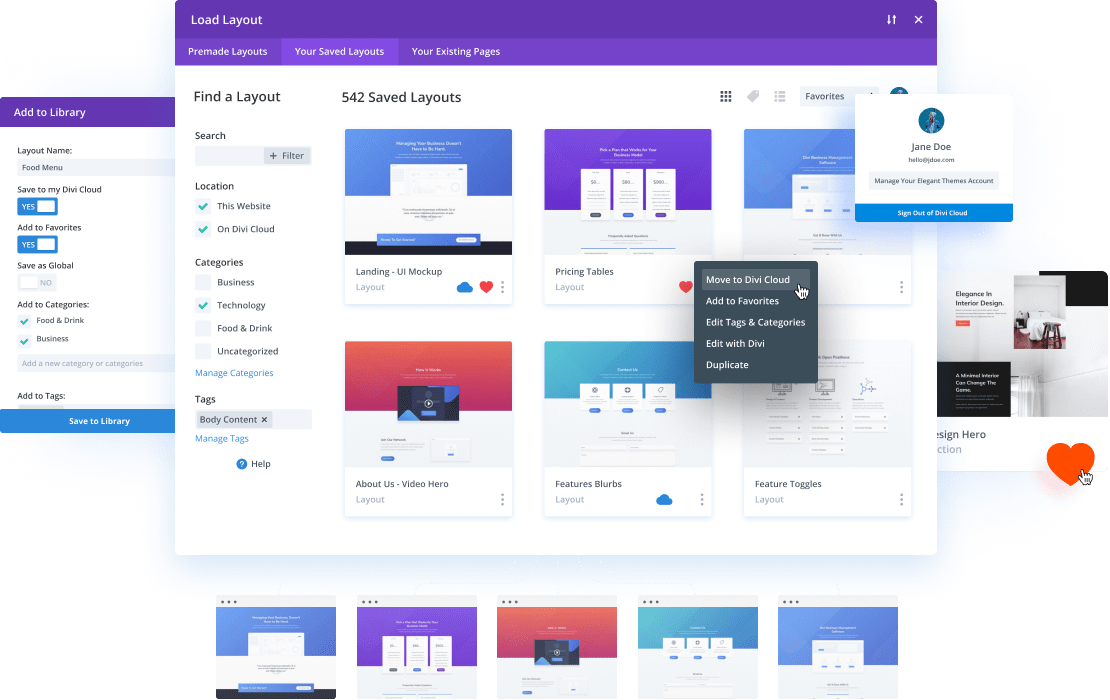 Rufers
With its modern and stylish design, customizable elements, and responsive layout, the Rufers theme is perfect for roofing technicians to showcase their services, including roofing, siding, maintenance, painting, remodeling, and repair. Plus, with an easy-to-use page builder, creating a professional website has never been simpler. 
Price:
$43.63
Creator:
ThemeKalia
Key Features:
Quick and easy to install
Optimized for ranking in Google
Build well-designed forms for whatever you need
Works with WooCommerce so you can take payments directly from customers
Friendly dedicated customer support
No. of times sold:
100
Review Stars:
4/5
Shelder
This powerful but easy-to-use WordPress theme helps you make industrial roofing websites with a clean, professional yet simple design. With a clean, professional design and customizable pages ready-made for your business's needs, you'll have a top-notch industrial roofing website in no time. And don't worry about those pesky device compatibility issues – this theme is responsive and works across all devices.
Price:
$32.63
Creator:
Smart Data Soft
Key Features:
It's good for other construction companies too
Ready to rank on Google
Two easily-customizable and ready-to-publish designs for your homepage
Fast and reliable support
Regularly updates to bring you new and better features
No. of times sold:
445
Review Stars:
4.5/5
Roof Repair
The Roof Repair WordPress theme is ideal for roofing contractors who need to access their website from any device. Not only does it have a responsive and clear design that looks great on any display, but it also comes loaded with helpful tools like a slider and built-in contact form for customer convenience. Plus, with full SEO support and an integrated Google map, this theme is sure to give your profits a boost.
Price:
$69
Creator:
ROCK THEMES
Key Features:
Easy to create a menu to make it quick for your customers to find what they need on your site
Works across all browsers for more peace of mind
Professional fonts, an uncluttered, minimalist design
Has good loading speeds
No. of times sold:
492
Review Stars:
4.7/5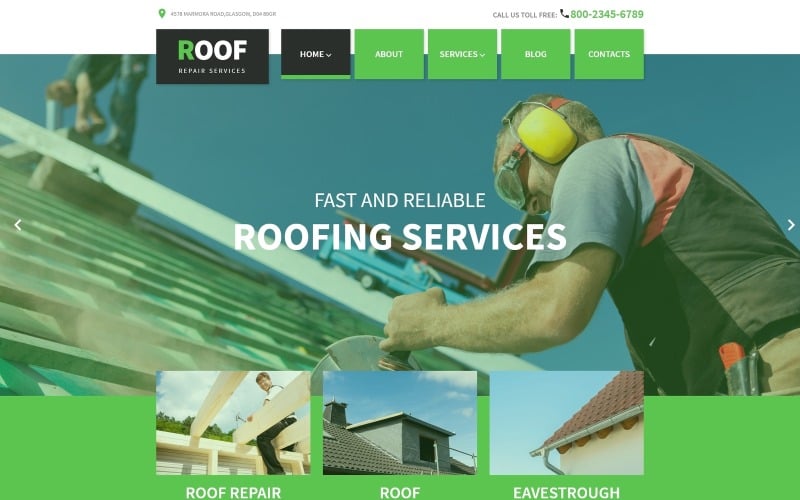 Eco Roofs
Eco-friendly roofing companies, are you in need of a visually appealing website option? Look no further than the Eco Roofs WordPress theme! Not only is it visually pleasing, but it also offers fast, smooth, and responsive performance across devices thanks to its use of Bootstrap. And let's be real, fast and responsive performance is crucial for any website in today's world. 
Price:
$62.88
Creator:
mwtemplates
Key Features:
A plugin for taking bookings for roofing jobs
A dark or light theme option to suit how you want it to look
Customizable widgets for extra functionality
Extensive documentation on all aspects of using the product
Showcase your team and message in a professional way
No. of times sold:
235
Review Stars:
4/5
HomeRoofer
The HomeRoofer theme is a versatile WordPress theme with solid colors, clean widgets, and a mobile-friendly design so your customers can find exactly what they need. And let's not forget about the built-in contact forms – easily take requests for quotes or get your customers' details with just a few clicks.
Price:
$21.38
Creator:
AncoraThemes
Key Features:
Dozens of pages ready to build out your website
Detailed tutorials and customer service for if you get stuck
Integrates with WooCommerce so you can sell your services online
Looks good on mobile as any theme should
Almost effortless to install
No. of times sold:
270
Review Stars:
4.9/5
FAQ
What Are The Most Necessary Features For A Roofing WordPress Theme?
When choosing a WordPress theme for your roofing company, here are the features you need to capture clients, satisfy their needs, and keep your business thriving.
A template for a review page – you need those testimonials!
Pages for FAQs, your safety/insurance policies, your certifications, and timelines for projects.
A place to prominently feature your business address, email, and phone number.
A box on the homepage for getting people's email addresses – you need to contact your clients directly.
A template for a page for people to easily get quotes and book your services.
Compatibility with most plugins so you can add extra features to your website.
Good customer support in case you need help.
An about page with photos of you and your team.
Conclusion
The bottom line? I vote for the Roof Theme being the best WordPress theme for roofing. It has all the features and design elements (like being mobile-responsive, simple to use, and fast-loading) you need to create a professional website for your roofing company.
Go forth and create your new website. I can't wait to see what you've got in store. Happy selling!
You might like our best WordPress themes for affiliate marketing if you are looking to set up websites for passive income. We also evaluated the themes based on functionality, ease of use, and looks. You must convey the messages clearly to your audience to convert better!