Before we dive into whether you should go with Wix vs WordPress, ask yourself one question:
What type of website do you want to build? 
Wix is the perfect option for beginners who want a pretty website quickly without thinking about the perfect website host or where to get a domain name. Wix covers them all.
If you want to build an online business for the long term and customize your website, you should choose WordPress.
But, what are the specific features that make you decide? Is that price? SEO? Design? Themes? Hosting?… or fengshui???
Yes, there's a lot to unfold between Wix and WordPress. So, let's start the full in-depth guide between the most popular website builders of all time…
Wix versus WordPress! Let's go! 
What is the difference between WordPress and Wix?
The main difference between Wix and WordPress is that Wix is a cloud-based website builder ( design-focused) whereas WordPress is an open-source content management system ( to create, edit, and store HTML).
For a regular user the main difference depends on the level of technical knowledge you already have and the intention of your website. Wix is a fantastic option if you are not tech-savvy and want to put up a website fast. WordPress, however, requires some technical skills and allows you to have full control over your website data and customization.
About Wix 
Wix is a cloud-based website builder with web hosting and beginner-friendly web design. With Wix, you can easily create an online website in minutes with its 500+ templates and user-friendly tools. Your site will be updated regularly and hosted on the web.
About WordPress 
WordPress is a leading CMS (content management system) that goes beyond just a website builder. WordPress is the most popular platform for building a website or blog. It is also compatible with most web hosting providers, customizable, and has a vast library of themes and plugins. 
Pros and Cons of Wix vs WordPress
Hopefully, this side-by-side comparison between Wix vs WordPress gives you a gist of the main differences between these website builders. Keep in mind that the best one depends on your specific website's needs and goal.
We will look at the features and capabilities of both platforms in the following paragraph, as well as the benefits and drawbacks of each one.

Pros Wix
Free
Easy to use 
Availble Customer Support
Affordable for one-off projects
Provides hosting and custom domain
Free SSL certificate
Cons Wix
Website speed isn't fast enough
Only 10 GB of storage
Prices and features are fixed
Fewer Apps compared to WP
Can't own data
Can't code or difficult to customize
Price is expensive for long term
Pros WordPress
Endless resources from other WordPress creators
Flexible customization
Thousands of available websites
Free
Great for SEO
Website speed optimization 
Integration with other tools
More affordable in the long-term
Cons WordPress 
Learning Curve
No customer service
Must find domain and hosting elsewhere
Design isn't intuitive for beginners
Need to hire a professional for advanced customization
Is WordPress harder than Wix?
Yes, WordPress is harder to use than Wix for a complete beginner, who has never built a website. Wix is easier than WordPress because the user does not have to set up separate hosting and domains to start a website and they can just dive into website building without any cost. 
In other words, if you want to build a website for free, Wix has a super intuitive drag-and-drop web design system where everyone could start and customize a website and make it available on the internet without paying for a custom domain name.
Wix lets you start a website and publish it for free with branded domain extensions that look like: username.wixsite.com 
… and sometimes this is enough for a user.
For example, if you are a complete beginner and just need a website for a simple purpose, such as a school project or a CV, a Wix site is a better option than WordPress.
However, if your intention is to build a website for a business, do consider the following features before you decide between Wix or WordPress. 
Wix vs WordPress Features 
Let me dive into the most important features of Wix and WordPress and how they compare to each other. Hopefully, it will give you a better idea to access if you should go with Wix vs WordPress. 
I'll go over 8 points between Wix vs WordPress:
Ease-of-use
Customization
Visual Editor
SEO
Pricing
Blogging
E-commerce
Customer Support
Let's do a point system! People love that thing, so in this section, I'll cut it short by rating the website builder's features on a scale of 1 – 5 – 5 being the best and 1 being the worst. 
I base my judgment on these features from an absolute beginner perspective, from someone who has never built a website and does not know how to code.
My newbies, this comparison is for YOU. 👍
Ease-of-Use
Wix is easier to use, hands down. 🙇
WordPress requires a small learning curve. As someone who used both WordPress and Wix, I know from personal experience that it took me a month to get used to WordPress, but Wix only took me a few hours to get comfortable.
The reason why Wix is so much easier to use is their target audience. Wix is not trying to convince any developer or website nerd to jump on their platform. Wix caters to beginners and non-tech users who want to put up a pretty website.
So, Wix's user-friendliness comes with another cost, which inevitably lies in the technical back end which I mention later.
Although we recommend WordPress as a website builder, I have to admit that WordPress is not the number one intuitive platform. This is why we created a full guide on how you can set up a website at a minimal cost on our YouTube channel. 
WordPress: 3.5/5
Wix: 5/5
Customization
When you are done setting up your website, you will eventually bump into this problem: How to add [whatever feature you want] to your website, so it becomes unique. 
Every website is different, just like children. 
You make them the same way, but they do not turn out the same in the end. 
Your website is defined by its features, and for WordPress, we call those extra features plugins and widgets, whereas on Wix you can install apps. 
The reason why I gave WordPress a higher score is that the library of plugins and widgets is close to endless! You can install thousands of free and paid plugins to customize your website, plus you can add custom codes on WordPress too.
Even though the Wix Market expanded their app selection to 288 apps, they are still not close to the options you can find on Envato or WordPress.org. Plus, Wix is limited when it comes to making your own code or getting a WordPress developer to do it for you. 
Final note:  If you want to make real customization on your website, better to choose WordPress. 
WordPress: 5/5
Wix: 3.5 / 5 
Visual Editor
Wix is hands-down winning in the drag-and-drop game. Wix templates are so aesthetic and well-designed that often you do not need to change much on the visual elements. Due to its intuitiveness and simplicity, I give Wix a 5/5 on visual editing. 
As a beginner, you might feel like Wix is the Canva of web design, but hold on a little bit…
WordPress' Elementor Pro is not far off on the drag-and-drop functions! When you compare the two, you can tell how simple it is to design a website. However, you do need a brief Elementor tutorial to fully grasp the spacing, margin, and padding of sections, and thus makes it less intuitive than Wix.
What could set WordPress apart from Wix is the available themes that are premade with templates. Currently, Wix has over 800 pre-made website templates, compared to the thousands of WordPress themes that WordPress has to offer.
WordPress: 4 / 5
Wix: 5/5
SEO
In the SEO Community, people swear by WordPress. Look around, ask them! 90% will say they built their website on WordPress. 
Afrefs study showed that only 1.4% of Wix websites built on Wix received organic traffic compared to the overwhelming 46.1% of WordPress sites that did. Does this mean WordPress is better for SEO than Wix? 
We'd say that study is cool but doesn't tell the full picture. WordPress started out as a blogging platform and grew into a full CMS system, whereas Wix came after and joined the market later. 
So, that being said, we could argue that people prefer WordPress because it has been around longer, and thus has been used by more people compared to Wix. 
Both WordPress and Wix help newbies understand the fundamentals of on-page SEO, such as optimizing headings, titles, meta descriptions, internal linking, and image ALT text. 
You can even install Yoast SEO for free or Wix Wiz for SEO suggestions that help beginners learn the simplicity of search engine optimization.
In 2016 Wix had changed many SEO issues on their platform, so most of the features that you need for SEO are there: canonical URLs, fixed URL structure, automatic sitemaps, 301 redirects.
However, the main reasons why I decided to give a lower SEO score to Wix is speed and lack of overall customization.
Wix sites load slower which is detrimental to SEO. Personal experience and other Wix reviews showed that Wix site speed could be faster. While our WordPress sites can do a better job on-site speed with the right hosting platform. 
WordPress loads faster and better for technical SEO such as custom coding. For example, if one of your pages doesn't get crawled it is very hard to change elements and fix any issues there if you are using Wix. However, you can easily change things up with WordPress.
Score
WordPress: 5 / 5
Wix: 4  / 5
Pricing
Wix is cheaper than WordPress if you are not looking for extra customization and need to host it for a short time, ie. less than a year. 
WordPress is a better investment for the long-term and if you break down the pricing, WordPress can be much cheaper too. 
Let me break this down for you…
The cost of using Wix or WordPress depends on many factors, such as the specific plans and features you choose, and additional costs such as hosting, themes, and plugins. 
However, to make a proper comparison, let's take an example of the cost of a single website for one month. 
In order to build and set up a website you need a host and domain name. In principle, these two are enough to build a website that is functioning and can be found on the internet.
And Wix's pricing plan gives you these basics. You can host your website on Wix and create a custom domain such as priceexampletraining.com 
The price of one website per month on Wix starts from $12.5 per month, whereas if you buy your domain name and  hosting provider separately, the price per website is only $5.5 according to our example with WPX.net.
Here is how we compared the prices:
Wix: 
Price for hosting and domain name on Wix per website: $12.5 
Here is our math if you choose a separate hosting plan and domain name:
WPX Hosting Plan: $21 / Month  (up to 5 websites)
NameCheap: $15 / year (average)
Per Month with WordPress: $23 
Per Month with WPX Hosting and NameCheap per website: $5.5
 Both platforms provide free SSL certificates, however, WPX.net storage plan starts with 15 GB compared to Wix's 10 GB storage plan. 
So, calculate your budget wisely when you pick between Wix vs WordPress. If you break things down, WordPress becomes more affordable with more customization and storage options.
Pricing Score:
WordPress: 4 / 5
Wix: 3 / 5
Blogging
WordPress is a better option for blogging than Wix. 
Why? Let me break this down for ya.
WordPress is still to this day, the de-facto blogging platform. You can backdate blog posts, feature a single image across a top of blog posts, and it supports multi-language functions.
Wix does allow you to posts but blogging is not just that, but WordPress lets you install plugins that help your blog to get better traffic and monetize them.
With WordPress you can install plugins such as SEO plugins like RankMath, email marketing integration, and social media integration, which can help you grow and monetize your blog. 
Not only that but WordPress still performs better on SEO, which determines the success of your blog too. 
Blogging Score
WordPress 5 / 5 
Wix: 3.5 / 5
E-commerce
Both Wix and WordPress can be used to create e-commerce websites and online stores. The main difference comes depending on what type of product you would like to sell.
But let's go over the main features first!
Wix:
Wix comes with e-commerce-specific features ie: creates product pages, manages orders and shipments, and accepts online payments.
And, as I discussed earlier, Wix is SO SIMPLE for beginners, if you want to sell your T-Shirts or small homemade products, Wix is a great choice for e-commerce. You can pick any of their pre-made templates and your online store will look professional in 5 minutes! 
However, Wix does have its limitations when it comes to building an e-commerce website. It is very challenging to build a large-scale online store on Wix. You will not be able to customize as much as WordPress.
WordPress:
WordPress, on the other hand, is highly customizable and can be extended with a range of plugins and themes to add additional functions ie. data import/export, email capture, adding specific product information, etc. 
On WordPress, you own your data and easily import and export them, whereas you wouldn't be able to on Wix. This is a huge red flag, if you own an e-commerce store, you want to be able to view your order data, cash flow, etc. 
So make sure you decide on your e-commerce products wisely.
If you are a beginner and want to build a large e-commerce store, you can always outsource this to a WordPress developer so they can build the website for you. However, if you choose Wix, even a developer would have a challenging time customizing your online store. 
Overall, both Wix and WordPress can be used to create e-commerce websites and to build online stores for medium-sized businesses and complex products, the best choice should be WordPress. 
Score:
WordPress: 5 / 5
Wix: 3.5 / 5
Customer Support
Wix and WordPress offer customer support to users, but which one is the BEST? I got to choose Wix over WordPress. Not only Wix's available chat support performs better, but their tutorials are so beginner-friendly, even though the platform is already so intuitive! 
Here is a quick comparison of the customer support options offered by Wix and WordPress:
Wix offers direct customer support through its website with a support center. Furthermore, Wix includes articles and video tutorials, where you can follow the exact steps to build or fix your website. And, if you're having even bigger issues, you can book a phone call with them (from Monday to Thursday, 5am-5pm EST) too as a premium user. 
WordPress is an open-source CMS, so it does not offer direct support to its users. Therefore most WordPress users have to rely on channels, like WPHub, and watch tutorials from third-party companies or other WordPress users. 
On the other hand, you can also read the WordPress.org support forums, where users can ask for help and assistance from other WordPress users and developers. 
Plus, once you installed individual plugins or themes, you can contact the creators directly, you wouldn't have to reach out to WordPress. 
Don't underestimate that WordPress has a large and active community of users and developers, which means that you have access to endless resources. There are tons of forums and online communities where you can ask for help and get advice.
So, for a beginner user,  Wix is still a better option when you look at its customer service. Wix will be more likely to help you out than WordPress. 
Score: 
WordPress 2 / 5
Wix: 4 / 5
Wix vs WordPress For Different Types of Websites
When you want to create a website, there are many different options to choose from. But which one is the right choice for you? 
In this section, I prepared a table to compare Wix and WordPress for popular types of websites to help you decide which platform is best, Wix vs WordPress. 
I evaluated the features and capabilities of both platforms and considered the pros and cons of Wix vs WordPress. So, whether you want a personal blog, an e-commerce store, or a professional business website, just use this table. 
Do you have any questions? Join the WPHub Community Group and let us know 😉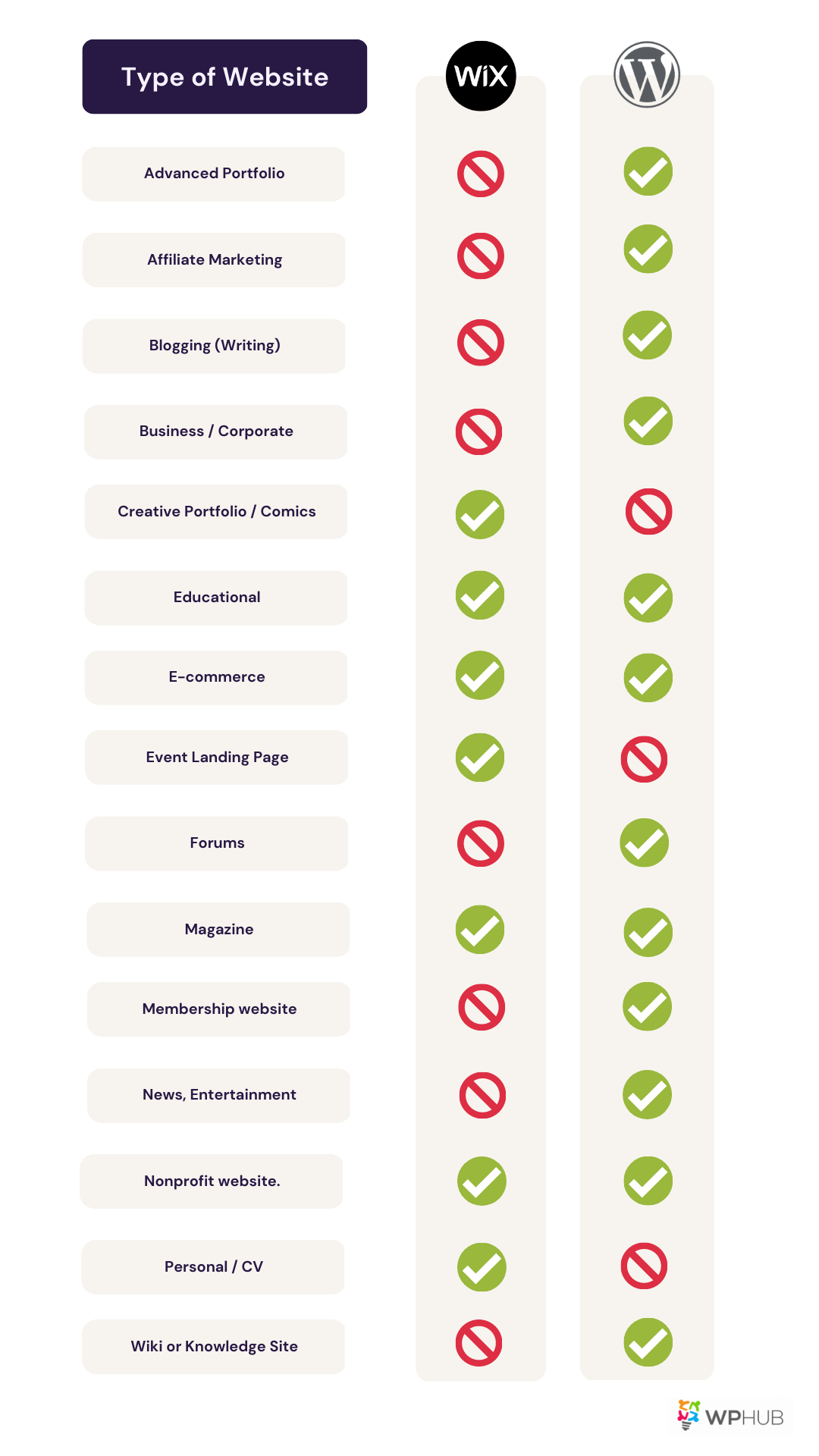 Wix vs WordPress: Which One Should You Choose?
Wix and WordPress are two of the most popular platforms for creating websites, and both are recommended for beginners. Wix is a website builder that is specifically designed to be simple to use, with beautifully pre-designed templates and a drag-and-drop editor. 
WordPress, on the other hand, is a flexible platform that is highly customizable and can be extended with a range of themes and plugins. It is well-suited for users who are willing to invest for the long term, willing to hire a developer when needed, and is good for creating more complex or advanced websites. 
Ultimately, the best choice between Wix and WordPress will depend on your website goal.
If you liked this article, you might want to check out our post about building a website as a complete beginner. 
Don't forget to check out our YouTube channel and learn from our WordPress tutorials every week!
FAQs
Should I switch from WordPress to Wix?
You should only switch from WordPress to Wix if you found customization rather challenging and you need a website for a simple online store or short-term creative project. If you need a website for long term and building a business, we advise you to stay on WordPress.
You can always seek help on WordPress.org or download our free ebook and set learn how to build a website.
Can I transfer my domain away from Wix?
Yes, you can transfer your domain away from Wix if you wish to use a different provider. You will need to provide the necessary information and follow a few steps to complete the transfer. We recommend you to read Wix's customer support and follow their simple guide on transferring your domain away.  
Can I get a free domain on Wix?
Yes, you can get a free domain on Wix. To get a free domain from Wix, you have to sign up for one of their their paid Wix Plan > Choose Free Domain > Activate Domain.
Is WordPress Free? 
Yes, WordPress is a free, open-source CMS system that is used by millions of websites. You can build a free WordPress website, however, you will have to pay for a domain name and a hosting plan.