Did you just open a restaurant, bistro, or cafe, or just want to start a food blog? In this article, I'm showing you the best, most popular restaurant WordPress themes with more than 2000+ installations, 4+ star reviews, and mouth-watering, yummy, delici–
Oh, where was I? – Yes, restaurant themes, not pizza. 
I'm going to show you 15+ WordPress Restaurant themes that make your visitors hungry and want to press the "Order NOW" button in a blink of an eye.
We've also looked at page speed which is vital for your website performance, page builders, and online ordering functions for instant payment!  
Let's not forget that interactive menus are also included in this article, making sure your visitors won't bounce, and making that pizza order right away.
Okay, let's dig into these tasty WordPress themes for restaurants and cafes!
Dine
Elegant and simple. The two best words that describe the Dine WordPress theme are. Dine theme allows your visitors to view the menu, order online, and help you run your restaurant, cafe, bistro, or bar efficiently.
Dine is also amazing for beginners, you can edit sections with Elementor and collect emails with a built-in MailChimp Newsletter. – Let your customers know right away to come back for your weekly specials! 
The built-in Restaurant Reservation plugin lets you see customers from your Dashboard instead of relying on any third-party service. The reservation form and the data go to your backend or your email when there's a new customer making a booking.
Sold: 1,293 times
Price: $69
Rosa 2
Rosa 2 is a WordPress theme that backs up your culinary businesses, such as restaurants, bars, bakeries, pizzerias, cafes, and coffee shops. Rosa 2 online ordering capabilities and compatibility with Elementor make it another great fit for beginners.
With Style Manager, a user-friendly tool, you can easily customize the appearance of your website to match your brand in no time.  Choose from predefined color and font options or create your own. It's simple to alter the look and feel of your website.
Price: $75 / year
One-time Fee: $95
Resca
Resca is another amazing WordPress theme for restaurants, cafes, coffee shops, bistros, diners, and fine dining. What we love about Resca is that it is mobile-optimized, and visitors can make an online booking with just one click. 
Resca WordPress theme's menu brings a unique experience for any visitor! The theme uses Slider Revolution which is an all-purpose slide-displaying solution that helps users view almost all types of content with highly customizable transitions, effects, and custom animations. 
Scrolling on menus is no longer mouth-watering but also fun! 
Resca is also WooCommerce 2.2.x, 2.3.x ready: Packed full of features, perfectly integrated into your self-hosted Restaurant WordPress Theme.
Price: $44
Sold: 1,730 times
Cinnamon
Are you an indecisive person? Cinnamon WordPress theme comes with 7 food menus, so make sure you have enough variety of designs to choose from but not too overwhelming to make a final decision. 
Cinnamon, unlike other themes, comes with an in-house page builder that is similar to Elementor. You can still customize it, plus this makes the theme load faster too! If you bump into any issues, Cinnamon comes with technical support from forums and is 100% responsive. 
We recommend the Cinnamon theme for any content-driven website, such as food blogs, restaurant reviews, restaurants, recipe websites, and cafes.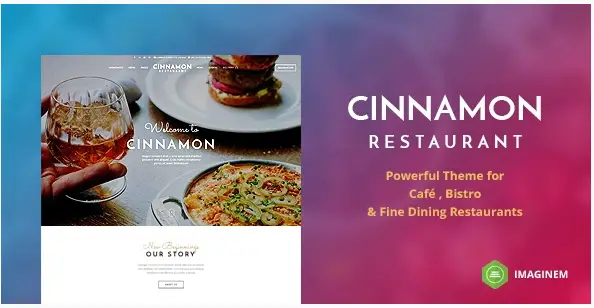 Sold: 1,178 times
Price: $59
Piizalian
Another fun fast-food WordPress theme! Piizalian is less formal, it suits restaurants that serve burgers, pizzas, fried chicken, and other delicious fast food. 
Piizalian WordPress is designed to allow visitors to customize their own pizzas (such as adding multiple toppings, changing crust size, and adding extra sides) and order them online. The theme is clean and responsive and compatible with the main WooCommerce plugins from WPClever. Therefore, you can easily turn your website into an online restaurant. 
Price: $58
Sold: 249 times
Foodie
Foodie is said to be a fast-food restaurant WordPress theme, but from our review, it is suitable for any local restaurant, cafe, diner, food truck, pizzeria, or bistro that is just starting out. The WordPress theme is specifically designed for Elementor Pro, which most beginners will use to start their websites.
The Foodie-fast food chain WordPress theme is a clean and modern design, and it is fully responsive and requires minimal changes to make it fully functional on your new website.
The main benefit of the Foodie fast food WordPress theme is that the regular license is only $20 which is so much more affordable than any other theme and the design is already done for you with two home pages, and 13 templates. 
Overall, Foodie Pro is a great choice for new restaurants looking for a theme that is easily customizable by any beginner.
Price: $20
Sold: 4 times
LemonChili 
LemonChili is a  customizable WordPress theme that is great for modern restaurants. Our favorite feature is the built-in gallery slider that welcomes you on the home page. 
LemonChili theme is designed with the user in mind, therefore the opening hours and upcoming events are shown clearly on the front page. Unlike other themes, LemonChili highlights common information users always look for from a restaurant and highlights the place's food options. – Isn't it all that we look for too?  
One more highlight that we LOVE is that LemonChili comes with Google Analytics integration, saves you all the back-end headaches and you can view your website data right away. 
We recommend LemonChili for urban, modern-style bistros and restaurants due to its simplicity and picture-heavy focus. 
Price: $49
Sold: 4,313
Grand Restaurant
Grand Restaurant WordPress theme is elegant and scrumptious. – Look at it. Don't you just want to eat their website? We recommend the Grand Restaurant theme for any high-end bar, restaurant, or bistro especially if they are aiming for fancy customers who want the glam from the menu to the table. 
Grand Restaurant WordPress theme is compatible with all browsers and the software version is available up to WordPress 6.0.
Price: $64
Sold: 9,487
Craft 
Calling coffee-lovers! Craft WordPress theme is perfect for coffee shops, coffee stores, cafes, bistros, and bakeries. The Craft WordPress theme gives your visitors an instant feeling of what it's like to sit in your cafe for a freshly brewed latte. 
Similar to Grand Restaurant, Craft WP Theme is also compatible with most browsers and available up to WordPress 6.0. The best thing about Craft is that you can simply customize it on Elementor. The demos are absolutely stunning and awe your visitors from first sight.
Price: $59
Sold: 534
Restaurant Vincent
Are you opening a pizzeria? Restaurant Vincent is our favorite WordPress theme for pizzerias or bistros. Restaurant Vincent is designed specifically for online delivery too, so you can take and track online payments without worrying about setting up any back-end plugins.
Restaurant Vincent is one of the best-rated WordPress themes for restaurants and Cafes category. Theme suits those who want to create a website for a restaurant, butchery, pizzeria, or food delivery service. The Restaurant Vincent is created to be a fully functioning online store but people can also just view the menu, opening hours, and come to your restaurant straight away. 
Price: $59
Sold: 1,166
Attika 
Attika WordPress theme is another elegant theme for restaurants, bars, and bistros. When you install the Attika WordPress theme, you get access to all the images featured throughout the website, so all the stunning and high-quality images will be on your site. 
Attika WordPress theme is perfect for fine dining, haute cuisine, wedding, or high-end restaurants. What we love here is that you also receive 6 months of support from the Mikado-Themes too, don't worry about any issues – they got you!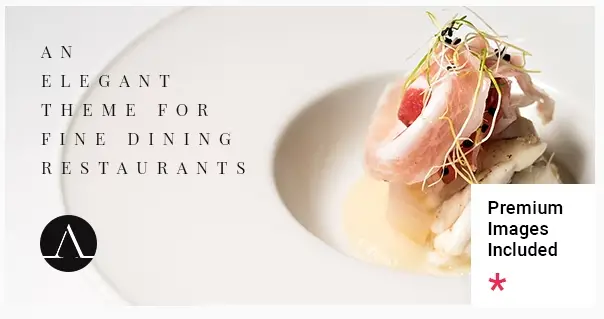 Price: $89
Sold: 869
Savory
Savory Restaurant Theme is versatile, you can use this as a food blog, restaurant review, cafe, coffee shop, cooking, culinary, or just a simple restaurant theme. Savory Restaurant WordPress theme is stunning and brings fully positive vibes to any visitor! 
The Savory Restaurant theme is by far the best option if you want to start a restaurant or cooking website! You have all the necessary features already installed within this theme, such as blogs, 12 homepage examples, image galleries, call-to-action, and restaurant menu! 
You can create literally anything with this theme, and the color scheme is perfect for any type of restaurant.
Price: $79
Sold: 2,207
Pizzaro
Another fast-food WordPress theme, Pizzaro is a modern and clean WordPress theme with built-in online ordering features. Pizzaro WordPress theme was brought to you with the creator's real experience in food delivery, online orders, and local fast food chains. Therefore, your visitors have a convenient time to order anything from you or your client's restaurant. 
More features of the Pizzaro WordPress theme: Comes with custom and user-friendly food-picking shop pages for online ordering! Plus, there is a blog section too, if you want to write about recipes and share them with your customers. 
With Pizzaro, you can choose from 6 professional home content pages with sections that can be easily customizable (although they look great! You wouldn't need to!) 
The Pizzaro Food Online WordPress theme is perfect for local pizza restaurants, bistros, restaurants, and fast-food chains.
Price: $59
Sold: 2,310
GoodResto
The delicious-looking Good Resto WordPress theme is perfect for cafes, bakeries, and restaurants. Goodresto's theme is super eye-catching, simple, and elegant. What's more to expect from the best WordPress theme for bakeries? 
Goodresto allows your visitors to view the menu right on the front page and take a peek at the dishes too. Delicious, light, and responsive. What else do you need from this WordPress theme?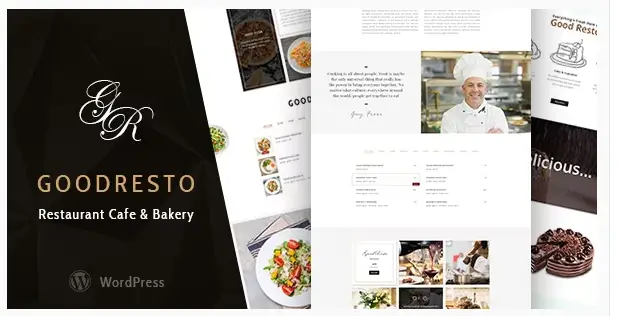 Price: $39
Sold: 240 times
Picante
Picante is a contemporary WordPress theme designed best for restaurants, cafes, pizzerias, and other food/restaurant review blogs. The Picante WordPress theme is also perfect for personal chef websites. 
This theme includes built-in features like a restaurant menu, online ordering, and pizza delivery. Picante is powered by Cordless Builder, a front-end editor that simplifies the process of creating an aesthetic website for your culinary business.
Picante comes with diverse templates for restaurant businesses so your site stays unique, one of its kind. We recommend this for individual bloggers too, who want to show the world their passion for culinary arts and cooking.
Price: $59
Sold: 760
Deliciko
Elegant and effective. – Two best words that describe Delicioso WordPress theme for restaurants, bars, cafes, bistros, and more! If you are looking for an all-in restaurant WordPress theme for online ordering and menus, Deliciko is another fantastic option. 
Deliciko theme is designed so visitors can view your menu items individually or in a grid form. The pre-designed header and footer is modern and clean, so anyone can easily contact your culinary business. 
Do you need to make a reservation? Deliciko theme allows visitors to book tables online, which saves your business valuable time! 
You can edit and customize the Deliciko WordPress theme with Elementor, the most beginner-friendly website builder! Plus, install custom fonts with Unlimited Google Fonts.
Price: $34
Sold: 671
Astra
Astra is a popular and highly customizable WordPress theme that is well-suited for any website therefore it is great for restaurants, cafes, and bars too. Astra comes with a clean and modern design, and it is fully responsive, however, you would have to choose another template from it too. The reason we like Astra is that if you get the pro version, you can apply multiple themes to multiple websites with a lot of affordable price.
The Astra theme is lightweight and simply customizable on WordPress.  so it looks great on all devices. Astra is also optimized for performance, so it will load quickly and smoothly. 
The theme is compatible with popular WordPress plugins such as WPBakery Page Builder and Gravity Forms, making it easy to add additional functionality to your site.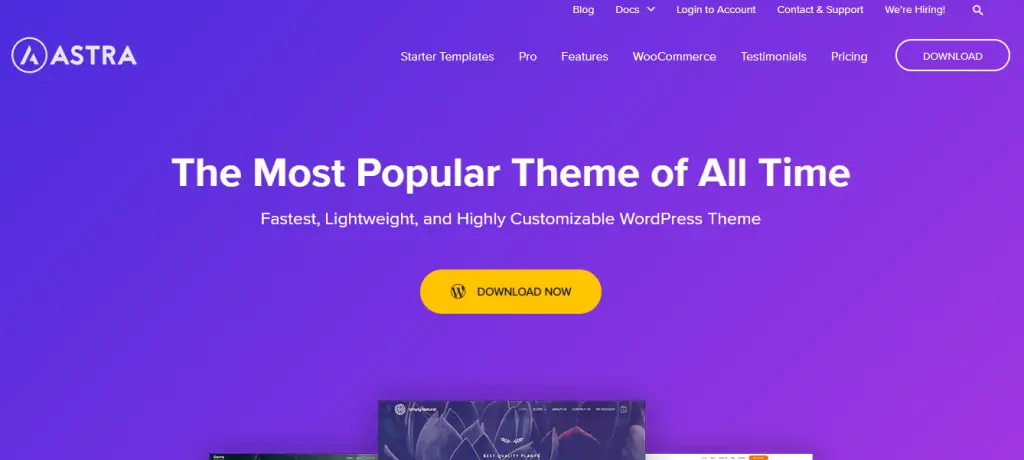 Price: $59
Sold: 2,000,000+
What's the Best Restaurant WordPress theme in 2023?
Speed and online ordering are the two main features that we go with, therefore the best WordPress restaurant theme is Dine and Savory WP Themes. Dine has a simple integration with MailChimp and lets your customers order online with ease. Savory, on the other hand, is customizable for every type of restaurant and food-related website!
Are you making websites for other clients? We just covered our best roofing WordPress themes that are easy to set up, responsive, fast, and help visitors turn into building leads!
No matter which one you choose, they are the best WordPress Restaurant themes for this review. If you liked the other themes above, don't worry. They are great WordPress themes for restaurants, food blogs, cafes, and bistros. If you liked this article, make sure you also read our best portfolio themes for beginners. Each theme has its own unique set of features and design elements and comes with a range of customization options and online payments.