On WordPress, you can easily change the date of your published posts, edit the date based on your new timezone, and bulk schedule posts and pages in advance. In this tutorial, I will show you how you can schedule posts on WordPress to stay on top of your editorial calendar and never miss a post again
How to schedule posts on WordPress
Go to your WordPress dashboard.
Create post by clicking the "Add New" button.
Add the content to the body of your post.
Now, you are ready to schedule your blog article.
On the right side of the screen is where the settings will be. Hover to "Publish".
Once done, click on "Schedule"
Click on "Immediately," and a drop-down calendar will appear
Choose the intended date to schedule your post.
Once done, click on "Schedule"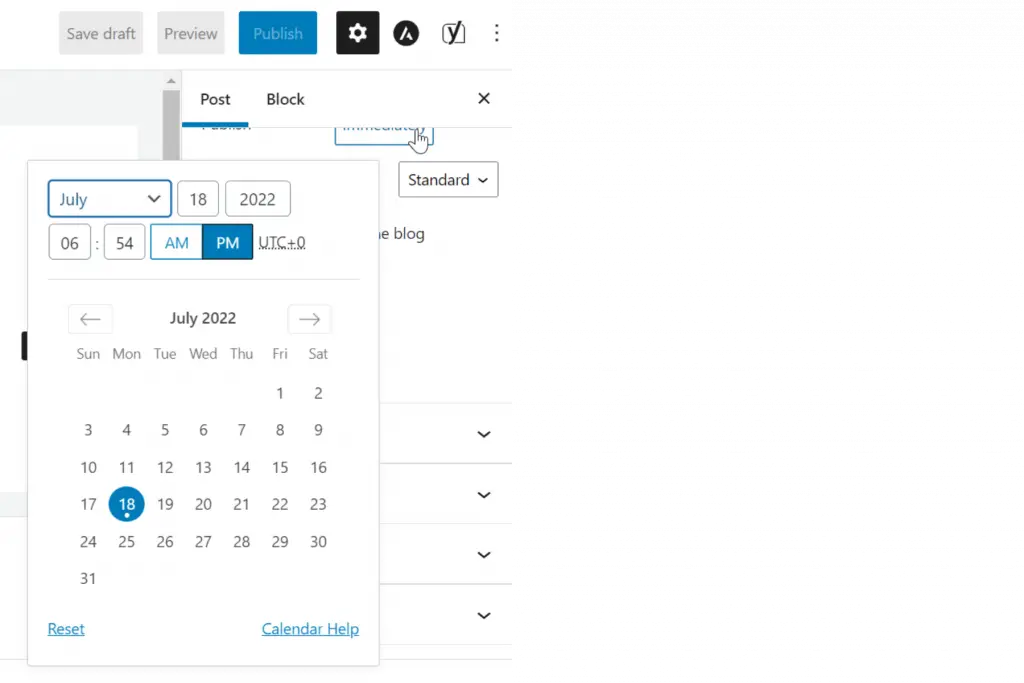 The benefits of scheduling posts
The benefits of scheduling posts on WordPress are many. For one, it allows you to better space out your content so that your readers have something new to look forward to regularly. Additionally, scheduling posts can help you stay on top of your blog's content calendar, ensuring you regularly publish new content. This can help you attract new readers and keep your existing readers coming back for more.

When you schedule posts in advance, you can take the time to really craft quality content, without feeling rushed. This allows you to make sure your posts are well-thought-out and provides a buffer in case you need to make any last-minute changes.
How to create a content calendar
Creating a content calendar is a great way to keep track of your content strategy and make sure that you are consistently publishing new and fresh content.
Here are some tips on how to create a content calendar: 

1. Decide on the topics you want to write about.
This can be based on seasonal trends, current events, or anything else that is timely and relevant to your industry. 
2. Choose the format of your content.
Will it be a blog post, article, or something else? If you're not sure, consider what format would be most engaging for your audience. For example, a blog post might be more personal and conversational, while an article could be more informative and factual. 
3. Decide what you want to achieve with your writing.
Do you want to inform, entertain, or persuade your reader? Once you know your goal, you can better choose the tone, style, and voice of your piece. For example, if you're writing a how-to guide, you'll want to use a tone that is clear and concise. On the other hand, if you're writing a personal essay, you may want to use a more personal and intimate tone. 
The best times to schedule posts on WordPress
The best times to schedule posts on WordPress are weekdays from 9 a.m. to 5 p.m. This is when most people are online and actively using the site. Posting during these times will ensure that your content is seen by the greatest number of people. The best times to post are generally early in the morning, or in the evening. This is because people are more likely to be on their computers during these times.
They may be checking email, browsing the internet, or working on a project. Whatever the case may be, they are more likely to be sitting at their desk during these hours. Therefore, it makes sense to target these times for your email marketing campaign. You'll have a better chance of getting your email seen and read if you send it during these times.
What's the worst time to schedule posts?
The worst times to schedule posts are generally considered to be early morning or late at night when people are less likely to be checking their inboxes. However, there are a few exceptions to this rule. For example, if you're sending an email about a time-sensitive sale, you'll want to include the relevant dates and times in the subject line. This will ensure that your recipients know to open and read your email as soon as possible.
Conclusion
We hope this tutorial has been an informative read and that it serves to inspire your future work.
If you don't know how to change time zones, you can watch a video I showed you on how to change time zones right here, and you can do the same with the pages.
Have you tried adding scheduling to your WordPress workflow? How did it go? Show off some of your great work in the comments below; we want to hear from you!
For more WordPress tips, visit wphub.com and sign up for our newsletter to never miss a tip on how to make your WordPress site stand out. See you next time.