There are millions of themes on the internet but ain't nobody got time to review them all! – 
Except me.
Despite having a full-time job, my sad hobby is sitting and looking at themes. So I started with affiliate marketing two years ago. After trying out Elementor, Gutenberg Editor, and browsing on Themeforest, I just needed to select the best Amazon affiliate WordPress themes! 
These are the themes I wish I knew when I first started Amazon affiliate marketing. They are fast, lightweight, and well-designed. 
Several WordPress themes are great for Amazon affiliate websites, but I narrowed it down to the top 9. Plus, it would help if you took a peek into the best hosting providers once you've selected your theme. Then, run your site fast and convert those visitors to Amazon affiliate commissions!
REHub
Stunning, effective, and specialized in affiliate marketing. REHub theme is one of the best Amazon Affiliate WordPress themes, due to its versatile modern design and exceptional features. When you install REHub, your online marketing game is going to skyrocket! The ReHub theme was installed more than 32,000 times! 
Why is this the most recommended theme by Amazon?
Let's go over REHub a little bit…
Our favorite features include REHub schema data which lets Google find the ratings of your product and show them in the search results! So, your web visitor can buy your product without reading through 2,000 words of content!
REHub makes it effortless to create Comparison tables, and add your favored buttons and features you want to highlight.
REHub also comes with advanced link management so you can keep track of how your links are performing and which one needs more link juice or which one makes the most sales.
I have not seen WordPress themes that come with this awesome feature; managing affiliate links. Link management is one of the annoying things you need to do when you refer Amazon products! Gotta chase those commissions!
Price
$59 per year
Key Features
Hybrid WordPress Theme
Link management tool
Perfect for e-commerce or coupon websites
Listing, comparisons
Spikes conversion rates with specific "versus" pages, specification comparison
Sell digital products
No. Times Sold
32,000+
Review Stars
4.92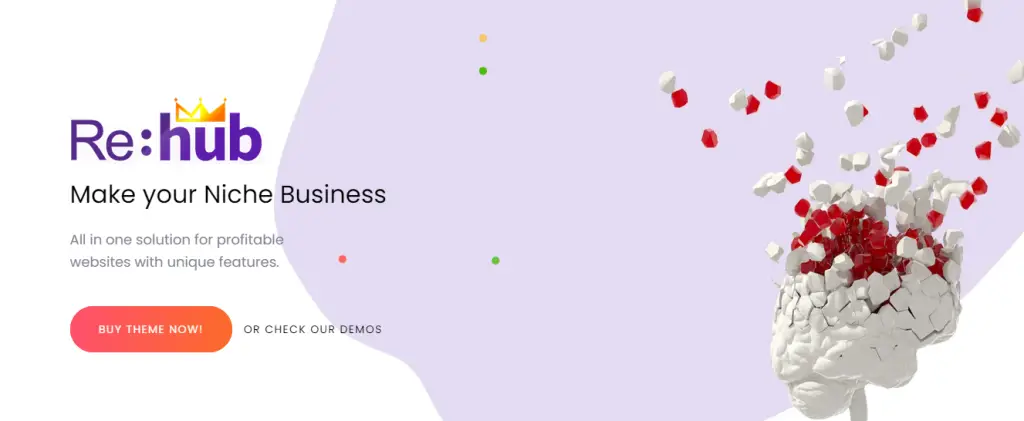 Astra
Let's say you are just starting out, and you are looking for a free WordPress theme for Amazon affiliate blogs, then Astra is the best theme for that. 
Astra WordPress themes are fast, and you can choose from the most simple designs for the most common niches such as kitchen, electronics, construction, or plumbing. Astra theme library comes with 180 demo sites, the variety seems overwhelming at first. 
Many themes also come free, and you can easily customize them without spending any money. – So, you can focus on making your first sales other than spending much on themes
Since it has been around for a long time, people recommend this as one of the go-to FREE WordPress themes. We recommend beginners install the Astra theme, especially if you are an Amazon Affiliate WordPress.
Astra is extremely versatile, not only for affiliate review sites but also traveling blogs because you can include every traveling related plugins, such as hotel booking, event sharing, blog sections, etc. You can find out more in our traveling WordPress theme reviews!
You can easily customize your Astra theme with Elementor page builder with a simple drag-and-drop, so your website is done in no time! We also love how the Astra homepage looks on every starter kit!
Price
Pro Plans start from $59
Key Features
37 KB with 7 HTTP requests
Lightweight high speed
Massive support around the Astra theme
More than 180 demo websites are available. 
It's updated regularly with bug fixes and new enhancements.
Compatible with WooCommerce
No. Times Sold
2,000,000+
Review Stars
5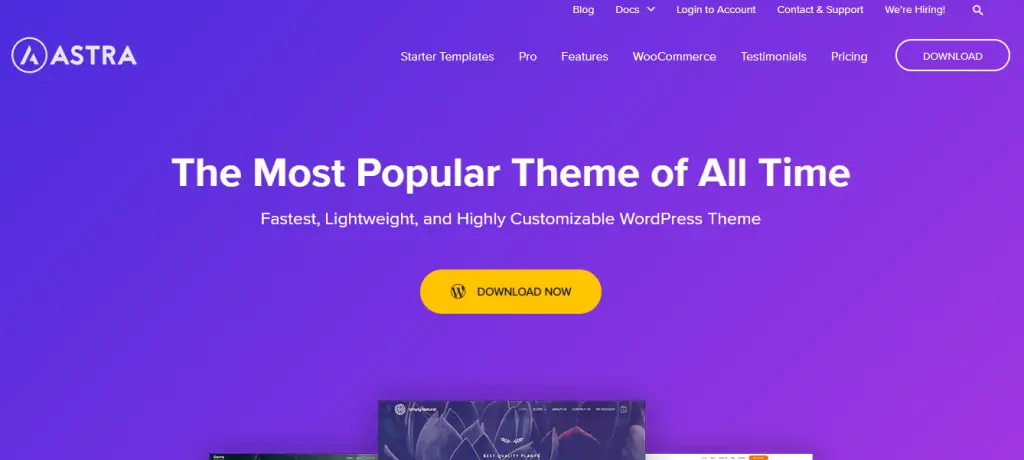 Sydney
Over 100,000 installs! – Are you kidding me? Sydney WordPress theme is one of the most underrated WordPress themes. – It's multi-purpose, lightweight, and modern! 
Although Sydney WordPress theme markets itself as a theme that you can use for client design, we can also want to recommend it to affiliate websites.
Especially if you chose a niche that needs you to keep a modern design for an Amazon Affiliate WordPress topic (ie. home decoration), then Sydney's Extended blog module serves your goal.
We recommend Sydney if you are basing your affiliate marketing mainly on content rather than trying to build a marketplace. 
Sydney WordPress theme is highly compatible with Gutenberg (Block) Editor, which makes your site run faster! 
So, the premade blocks on the Sydney theme will make your affiliate reviews unique and convert better!
Price
Pro Plans Start from: $69 per year
Key Features
Compatible with Gutenberg Editor
Translation ready (for multilingual sites)
3 Starter Sites for the free version
Beginner-friendly and efficient
Light-weight
Affordable yearly plan for personal users
No. Times Sold
100,000+
Review Stars
5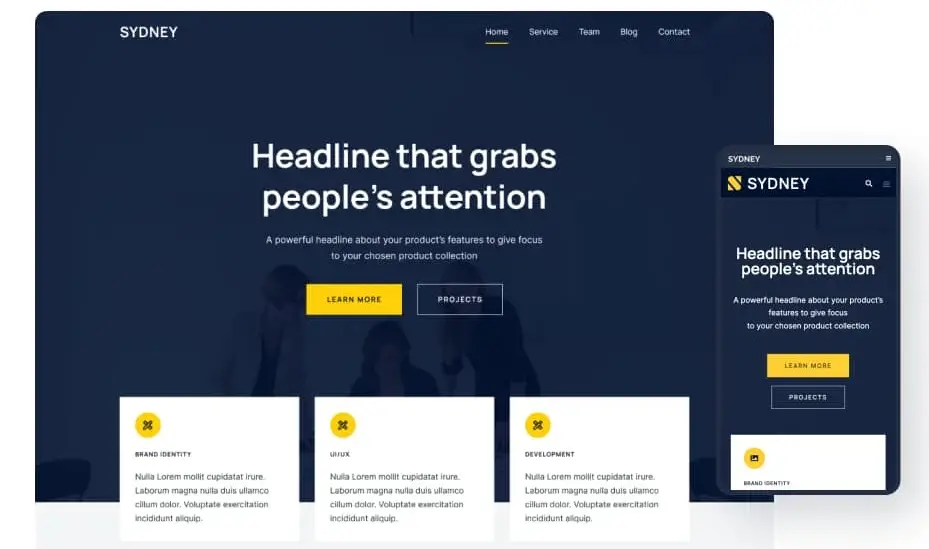 Ecome
Ecome is a super fresh and professional WordPress theme for your online store or website. If you are using WooCommerce, the Ecome WordPress theme makes it super easy to use. 
You can build online stores like digital shops, game sites, kitchen appliances, device reviews, etc. Ecome WP theme is built with advanced features from popular eCommerce sites like Amazon, Flipkart, Snapdeal, and Walmart. 
Thus your e-commerce website will function and convert well. Not just that, the Ecome theme comes with deep integration with WooCommerce and some of the most popular extensions out there! So, when you are an amazon affiliate, WordPress allows you to create diverse websites!
If you're an Amazon affiliate or want a marketplace and want to provide a source of retailers, or are just a store owner, this theme is for you.
Price
The price of the Ecome WordPress theme is $39
Key Features
Software version up to WordPress 5.1x
Compatible with WPBakery and Visual Composer
WooCommerce integration
Smart Live Search (look up products)
No. Times Sold
600
Review Stars
4.11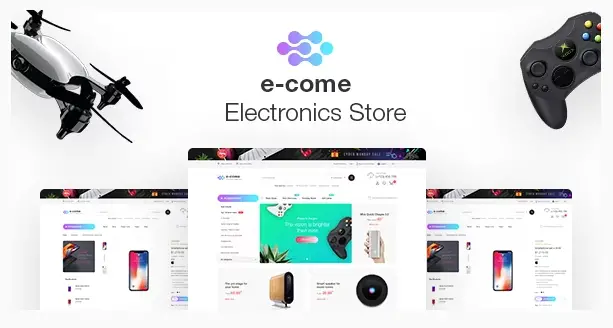 OceanWP
OceanWP is the ultimate WordPress theme for young and trendy websites. OceanWP website demos make visitors stay and explore the page even more – I call this the perfect marketing WordPress theme if you love creativity! Plus, OceanWP's yearly plan is cheaper than the Sydney theme. 
The personal pro plan starts at only $49 per year, and you also get access to royalty-free images, extensions, and over 200 PRO Demos! 
OceanWP is a versatile theme, so it's not strictly limited to Amazon affiliate websites. You can use this theme to create an upbeat, modern online presence. Therefore it is excellent to build a portfolio website too.
It has a wide range of pre-designed templates that will make your website look fresh and professional, perfect for any website. Whether you're selling products or promoting your brand, this theme will help you stand out and make a statement.
Price
Pro Plan Price: $49 per year
Key Features
Trendy and upbeat designs
SEO optimized
Available for FREE
RTL support
Royalty-free image included
No. Times Sold
5,000,000+
Review Stars
5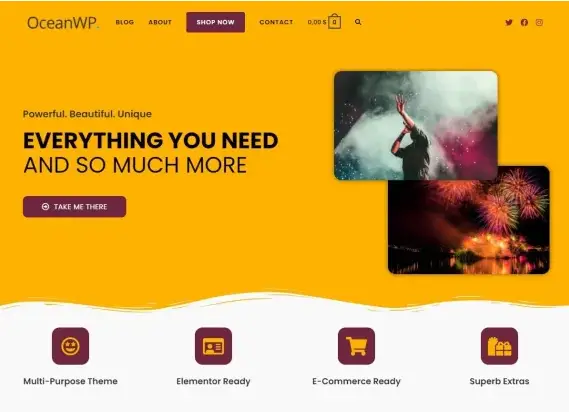 Kadence
If you are using Gutenberg (Block) Editor on WordPress, we recommend the Kadence WordPress theme free version! When you are running a site and trying to compete in every aspect of your SERP competitors, you can your site LOOK nice with just 0 clicks.
Kadence WordPress theme is perfect for design noobs like you and me, where you can select free premade blocks and run them fast on your site. The free plan is sufficient enough to set up a beginner website. Thus your initial investment is meager.
You can customize the layout very easily on Block Editor. Many people have chosen this over Elementor already!
However, unlike OceanWP or Sydney, the pro plan is more expensive ($129) and the renewal price is purposely made super tiny on the landing page… it is actually $149 yearly. So, be careful when you upgrade!
Info: When you become an Amazon affiliate and start advertising Amazon products, your earnings will be super low – therefore, investing in a very pricey theme should not be the priority!
Price
$129 then $149 per year after renewal.
Key Features
Available for free (Starter sites, blocks)
Loads FAST
Simple to use
Header and Footer builder
No Heavy Javascript files
Inline SVG Icons
WCAG 2.0 standards
Compatible with WooCommerce
No. Times Sold
200,000+
Review Stars
5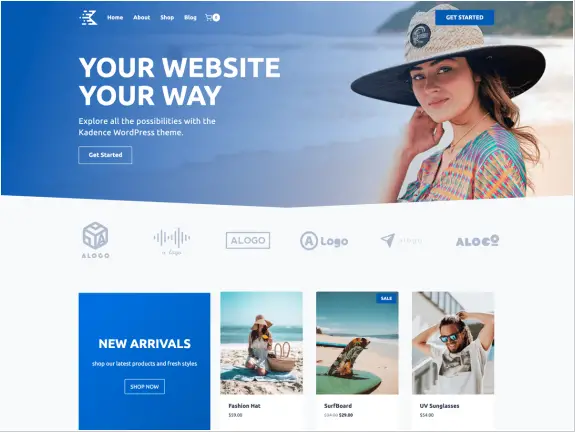 Thrive Theme
Thrive theme is a conversion-focused WordPress theme, which simply means the theme is minimalistic, collects emails, and has add-on quizzes for your visitors to stay on the site. Unlike other themes, Thrive focuses on making the site simple so that most new visitors understand your website's purpose and goal.
We put Thrive theme on the list of best affiliate WordPress themes because affiliate marketing is no longer just content. So, Thrive Theme highlights features that you need if you want to sell a digital product or generate leads. With Thrive themes, you can make your website a fully functioning business!
Price
 $97/year for a single-site license
Key Features
E-mail collection
Thrive Architect Light drag-and-drop design
Integrates with essential online tools and apps
3 companion themes
Selection of block templates
No. Times Sold
85,000+
Review Stars
5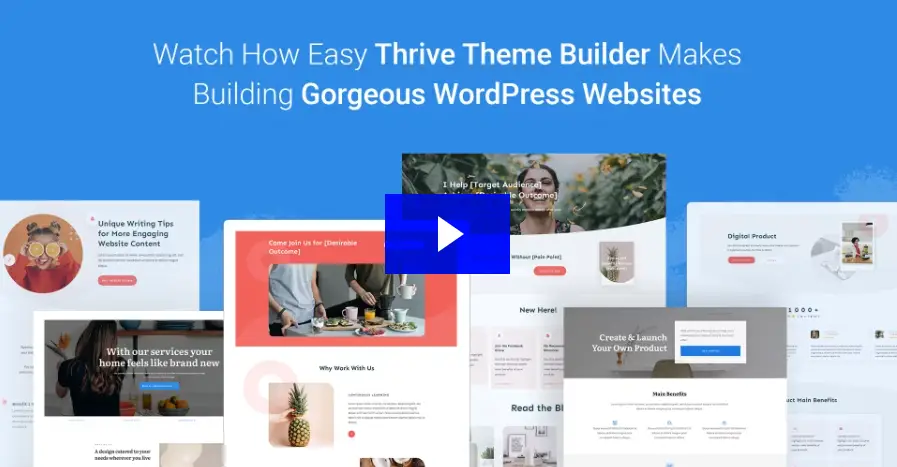 Divi
Divi is the most beautiful theme for affiliate websites! Now that people are moving away from Elementor due to lower speed, Divi is the perfect alternative for a visually appealing drag-and-drop. What Divi did exceptionally well is that their website design is so intuitive! 
Divi is also a great option for new sites because the starting templates are PERFECT for any micro niche on Amazon. 
Some also compare Divi to Wix but what we've found is that Divi is easier for developers to jump in and fix the site (when needed). In contrast, Wix is still catering to just drag-and-drop and premade themes. 
The cool thing about Divi is that it offers hosting services, unlike Elementor! You can host your entire website on Divi.
Price
$89 annually, or you can purchase lifetime access for $249
Key Features
Easy setup 
Premade website kits 
Set custom user roles 
Drag-and-drop visual editor
Search options search bar
Compatible with WooCommerce
Provides hosting services
No. Times Sold
21,000+
Review Stars
5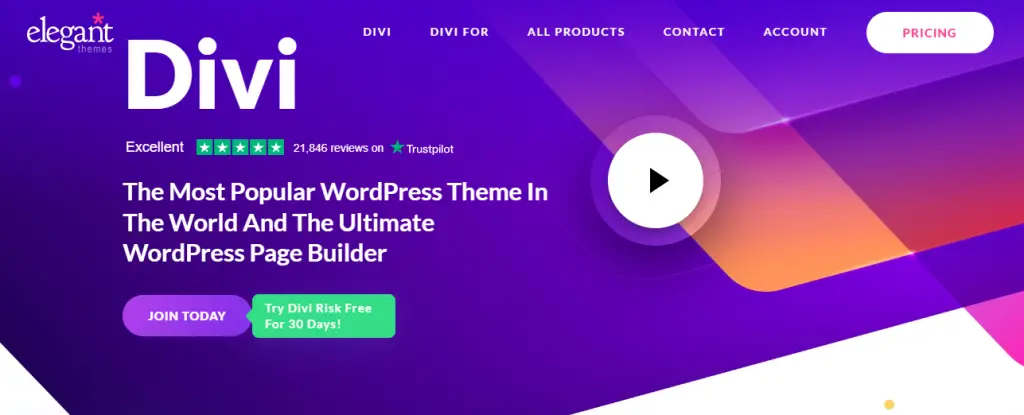 GeneratePress
Do you want your website to be FAST? GeneratePress is an excellent theme for marketers! – Almost the BEST! Why? They focus on speed, usability, and accessibility. If you thought the previous themes focused too much on design, GeneratePress is the opposite. It is perfect for Amazon, too!
GeneratePress comes with FREE themes like Kadence and guarantees customer support and fast speed for your website to get OPTIMAL performance. Therefore, GeneratePress is one of the best WordPress themes for site speed.
You want your affiliate website to be FAST and OPTIMAL for search engine crawlers and new visitors to test your content! That's what cool marketing is, right? Not just that but you can use GenerateBlocks plugin for free and customize your site, making it very versatile for building a page and links.
Price
$59 per year, or you can purchase the lifetime package at $249
Key Features
Best for website speed
Integrate with WooCommerce
A lightweight slide-out or overlay off-canvas panel for all devices
Import/export, copyright control, smooth scroll
No. Times Sold
4,000,000+
Review Stars
5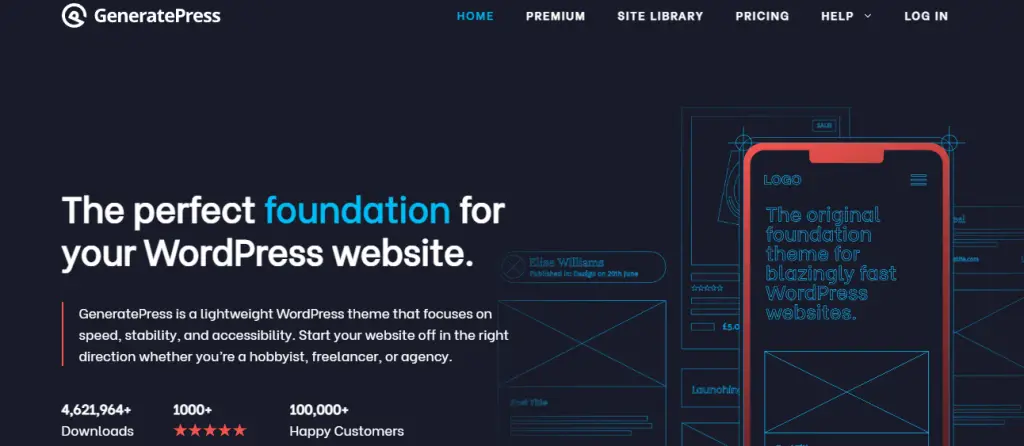 What do you need for successful amazon affiliate WordPress themes?
A successful affiliate WordPress theme must be beginner and SEO-friendly. Think of your WordPress theme as the most straightforward item on your amazon affiliate checklist! If you can't configure a simple theme, your whole website will be a nightmare!
In this specific case, the best Affiliate WordPress theme should have the following features:
Support for product page comparison and review WordPress site kits
Easy customization options 
Responsive design to ensure the theme looks good on all devices to view products
Support for Amazon links and tracking
SEO-friendly and fast-loading
Compatibility with popular WordPress plugins and widgets
Option for the website visitors to sort and filter products
Option for the website visitors to add products to a wishlist page and make purchases within the site.
Top Plugin selection for WordPress to get commission on Amazon:
You came to this page to look for a WordPress theme, but here is my juicy advice…
Plugins save you a lot of time and make your affiliate tracking and amazon commissions easy!
When building a website, one of the most important things you need is a plugin. – Not just one, but many of them!
I've collected the top selection of plugins that ties nicely with amazon affiliate WordPress themes. They help you manage and optimize your site. There are a variety of plugins available for websites, and the best ones will depend on your website topic, goals, and current traffic. However, some of the most popular and useful, you may call, affiliate WordPress plugins:
Our Selection of the Best Affiliate WordPress Plugins 
Link Whisper – When you are creating content for your affiliate site, you have to link blogs together and create effective silos. Link Whisper plugin is a powerful tool that automatically interlinks relevant content on your page with each other.
YOAST SEO – Yoast SEO plugin is free and helps beginners understand the fundamentals of SEO! You must install YOAST to get a kickstart on search engine optimization and pump your amazon affiliate WordPress website!
Rank Math – Track income and optimize your pages with the Rank Math plugin! With RankMath, you can do a significant number of things, such as Built-In Advanced SEO Analytics, Top Google Analytics 4 integration, and track website data. 
WP Affiliate Disclosure Plugin – This is our favorite amazon affiliate plugin! This plugin helps your blogs to be transparent about your earnings or commissions and show that you are an Amazon affiliate! We got our full WordPress tutorial on using WP Affiliate Disclosure too.
Good luck, my fellow Amazon Associate. Now you are ready to set up your affiliate marketing theme and be the best in your niche!
What's the Best Amazon Affiliate WordPress Theme?
The best amazon affiliate WordPress theme is Astra. When you are a beginner in the affiliate game, you should choose a theme that's lightweight, fast, and has templates for you to start a site. 
From our experience, Astra's free version is good enough to help you start a website and start recommending cool products from Amazon. 
Ultimately, the best WordPress theme for your affiliate website will depend on your specific goals, the chosen amazon product, and current website-building knowledge. If you enjoyed this page, make sure you also browse through our best review WordPress themes which dug deep into themes that are perfect for product reviews. 
If you are new to affiliate marketing, we recommend you join the Affiliate Lab today and learn a step-by-step guide to building the perfect Amazon affiliate site! Choosing a free theme or WooCommerce theme or getting the best Amazon Affiliate plugins is not the way to get the commission you deserve. 
Many people though fail in affiliate marketing because they do not invest enough time and resources to market their products and cover topical authority. You don't need to test things live, just need to cover the best features on your money page.
If you want to learn how to master Topical Authority on any WordPress site, join the Affiliate lab today and get access to a library of courses. 
FAQs
Is Amazon Affiliate easy?
Amazon affiliate is easy to enter and earn. The great thing about Amazon is that you get a commission for the price of the entire cart that the users bought, not just the single product you referred to. When you are doing Amazon affiliate, though, the competition is very high because the barrier to entering just became so much easier. Plus, setting up a WordPress is easy, so anyone can join and refer products!
Can you fail in affiliate marketing?
You can only fail in affiliate marketing if you make zero earnings over a long period. Many people, though, fail in affiliate marketing because they need to invest more time and resources to market their products and cover topical authority. 
How do I maximize my Amazon affiliate?
To maximize your Amazon Affiliate earnings, you need to increase traffic to your website. When you have shown consistent traffic on your site, go ahead and reach out to partnership managers and negotiate a higher percentage for your commission. You need higher website traffic, and having WordPress as your website builder is very beneficial!
What is the secret to affiliate marketing?
The secret to affiliate marketing is competition research and content. First, you must do thorough research on your niche and pick the one that is simple to enter. Content writing and search engine optimization go hand-in-hand. Therefore, if you want to build a successful website, and set up WordPress, you need to know what type of content you should write and how to optimize them the right way!