Any website looking to attract more visitors to its blog or its eCommerce store and grow will want a way to track its metrics. Without key metrics, such as how many visitors you have a day, your bounce rates, visitor engagement, and a whole host of others, you're essentially operating blind. You won't be able to identify your key performance indicators and capitalize on them.
Integrate Google Analytics Into WordPress
Luckily, Google provides a way to track those metrics through Google Analytics. 
However, incorporating Google Analytics into your website is not so easy. It requires you to have some coding skills in order actually to embed Google Analytics into your WordPress website. 
Luckily again, there are easier ways to go about it. Namely, you can use WordPress GA plugins. 
These plugins are small modules containing pre-written code needed for GA integration. In this article, we'll go over some advantages of running Google Analytics for your website and then present you with some of the best WordPress Google Analytics plugins on the market. Let's see what we have in store. 
Benefits of Using Google Analytics to Grow Your Website
If you're not using Google Analytics (or any analytics software, for that matter), you're going into the whole thing blind. 
Therefore, the primary reason to use GA is to identify your key performance indicators (KPIs) and work on improving and exploiting them. From there, using that data, we can begin not only strategizing for our market campaigns but engage in full-on marketing orchestration. 
Analytics software enables you to view many things, such as
User engagement
Click-through rates
Daily visits to your website
Session length
Bounce rates
Where your visitors come from (did they find you through organic search, or have they followed a link from an email or referral program?)
Keyword search volume
and many other metrics. If you've got an online store, you'll want to pay attention to these KPIs:
Gross profit
Conversion rate
Shopping cart abandonment rate
Shopping cart conversion rate
Customer lifetime value
Churn rate.
By understanding your KPIs, you're now the true master of your website. By gaining a deeper insight into all these metrics, you can now strategize and plan and find a way to build your website around the strongest KPIs to expand your website and keep it growing in the long run.
Of course, as your website grows, so does your business, and you'll begin seeing greater revenue. This makes analytics software not only essential if you want to monetize your WordPress website but a prudent business decision, as its return on investment is extremely high. Basically, it is nearly impossible to run any kind of serious business without it. 
Naturally, reading key metrics and understanding them are two different things. Before you start thinking about incorporating Google Analytics into your site, make sure you're familiar with the analytics software itself. Check out this guide on how to read your WordPress statistics before you start messing with GA plugins. 
Now that you understand why website analytics is so powerful, and you know how to read and analyze your stats, let's check out some top-notch plugins, and you can decide which WordPress Google Analytics plugin fits your website best. 
Top 8 WordPress Google Analytics Plugins
Lauded as one of the absolute best WP GA plugins, MonsterInsights (MI) is a truly comprehensive module, encompassing pretty much everything you need to keep track of your website's KPIs and data, ensuring you have all your needs for successful data orchestration.  
One of the key features of why MonsterInsights is so popular is that it displays all of your key metrics through WordPress dashboard reports. This means you can view all your analytics without ever having to leave WordPress. 
Besides this, MI also integrates with a wide variety of other plugins. You can use MI in tandem with WooCommerce, MemberPress, Give WP, and a host of other popular (and even those less so) plugins you might be using.
Here are some of the other features of MonsterInsights:
Enhanced eCommerce Tracking – MI is perfect for eCommerce and fits well both smaller and larger businesses' needs, as well as distributed marketing organizations. 
Event Tracking – track, measure, and analyze the events on your website in great detail.
Customized reporting – customize reports to your specific needs, website size, or analytics expertise. 
Simple setup process – no-hustle setup process lets you put MI to work instantly.
Affiliate and Google AdSense Tracking – track where your visitors are coming from.
Automated email reports – all your reports will be delivered directly to your email.
EU compliance – Make your website compliant with GDPA and CCPA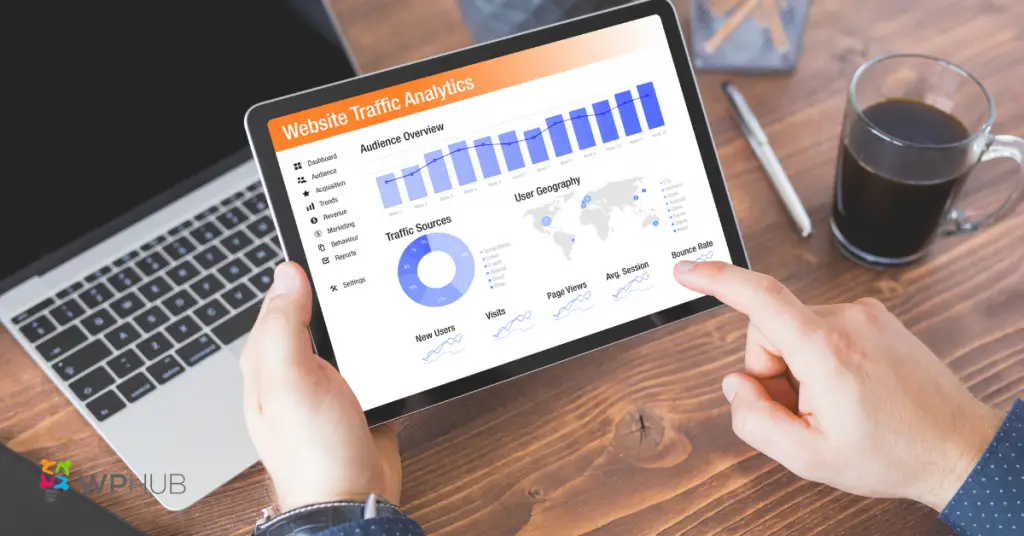 HubSpot is one of the best customer relationship management tool plugins available on the market. HubSpot is geared primarily toward larger companies, enabling them to conduct marketing campaigns with increased efficiency. 
HubSpot's features are
Website Traffic Analytics – analyze your website's overall performance and the performance of individual pages and content on those pages. 
Campaign Reporting – create campaigns using your website's content, then analyze its performance at regular intervals to gain further insight into how to optimize your content for future campaigns successfully.
Behavioral Event Triggers and Reporting – recognize patterns and create an automation system that triggers certain events to send a notification to your visitors. 
3. GA Google Analytics
You need the Google Analytics GA plugin if you want your whole website to be covered by Google Analytics.
Using GA is simple and easy – all you need to do is install it and paste it into your tracking ID, after which Google Analytics will attach a data tracking code to all your pages. You can start generating reports immediately and keep track of your main KPIs.
GA, however, has some downsides. For starters, in order to view your reports, you need to go to your Google Analytics account instead of being able to view them in your admin panel. Secondly, its free subscription is limited in terms of what you can track, but the pro version isn't too expensive, so that it won't set you back too far. 
Let's summarize GA Google Analytics' features:
Site-wide Tracking Code Coverage – upon activation, the plugin covers the entire website with a data tracking code, allowing the user to track any type of data they desire. 
User opt-out box – enables users to choose whether or not they will allow their session to be tracked by GA.
No Admin-side Reports – the plugin does not enable the user to view reports in the WordPress backend. 
Limited Features for Free Users – the free version of the plugin has some limitations that can be removed by upgrading to the pro plan. 
4. Analytify
If you like MonsterInsights, there's a good chance you'll like Analytify too. This plugin might not be as extensive as MI, but it comes very close, with a few of its own interesting features. 
One of those features is the front-end reporting. Analytify allows you to incorporate your data into a widget and display it right on your website, making it visible to not only you but to your customers as well. With careful use, this widget can be a tremendous boost in lead generation and a supporting act to your call to action. 
Analytify is also cheaper than MonsterInsight while having similar features, which is why Analytify is often considered a more affordable replacement for MI.
Here are some of Analytify's features:
UTM Campaign Tracking – track all the major KPIs of your eCommerce campaign. Track your bounce rates, as well as cart abandonment rates and conversion rates. 
Social Media Reporting – as one of the top 5 trends of successful virtual marketing strategy, social media marketing campaigns are immutably tied to eCommerce, so measuring key metrics tied to your campaigns is a very welcome feature.
Front-end Reporting – create a widget that generates automatic reports on key features that display stats without you having to go into your WP dashboard
5. Site Kit
Another one of Google's own, Site Kit is a WP plugin that connects your website with all of Google's services, and all this with no coding involved at all. 
One of the best features of Site Kit is that it generates all the reports in one large, centralized dashboard. This makes viewing so much easier for the user, as all your reports are right there in front of you. 
Here are some of the Site Kit's most notable features:
Centralized Dashboard – a single dashboard used to display all of your reports greatly simplifies navigation.
Easy Setup – code-free setup allows for quick and easy, beginner-free installation.
Integration with Google Services – your website will be integrated with all Google services, such as AdSense, PageSpeed Insights, Google Optimize, Google's A/B testing tools, and tools that let you check how mobile friendly is your website.
User Disconnect – enables users to disconnect from Google Services.
No eCommerce Tracking Features – the plugin doesn't offer eCommerce tracking features, making it unsuitable for use by online stores. 
6. WP Statistics
Another more affordable alternative to MonsterInsights, WP Statistics, is one of the best beginner-level WordPress plugins on the market. 
The plugin allows you to track many KPIs on your website, but it doesn't go nearly in-depth enough as MonsterInsights. It does, however, generate reports that can be viewed in your WP dashboard, so you have everything you need, stats-wise, in one place. 
One of the key features of WP, however, is its geotagging – the plugin tracks where your visitors are coming from, so you can create a demographic report and further hone in on your target audience. 
Reports to Email Feature – all reports are sent directly to your inbox.
Redirects and Keyword Tracking – tracks all search queries and redirects, allowing you to glimpse how efficient are your SEO practices.
File Exporting – enables you to export your data as tsv., xml., or cvs. files.
Locations Tracking Feature – this allows you to track where your visitors are located in the world. 
Automatic updates – automatic GeoIP updates.
7. WooCommerce Google Analytics Pro Plugin
One of the most prolific eCommerce-centric plugins for WordPress is the WooCommerce plugin. The module integrates Google Analytics Pro, Google Analytics, and the WooCommerce platform. 
As such, the plugin is entirely dedicated to tracking eCommerce metrics and KPIs. WooCommerce also features event tracking, where you can customize events on a broader or individual level. 
The only downside to WooCommerce plugin is that it's specifically designed for WooCommerce, and, as such, it isn't compatible with other eCommerce platforms.  
WooCommerce features summarized
Basic and Advanced eCommerce KPI Tracking – track all of your store's key performance indicators, like conversion rates, average order value, shopping cart conversion rates, etc.
Track User IDs – track user IDs for a more accurate analysis of your visitors, leads, and customers.
Filter Users – filter out site and shop managers from tracking to avoid confusion and increase the reliability of your data. 
8. ExtractMetrics Plugin
The last one on our list is the ExtractMetrics plugin. A very affordable and easy-to-use metric, ExtractMetrics offers all the basic and advanced tracking features MonsterInsight and Analytify offer. 
The plugin is also GDPR/CCPA compatible, so you don't have to worry about breaking privacy laws when gathering metrics for your site. 
One of the most interesting features of ExtractMetrics is its real-time statistics feature. With it, you are able to see, in real-time, when someone is interacting with your website. You'll be able to see who's coming or going, what content they're browsing the most, what pages they've visited, how long they've spent there, and other valuable things.
ExtractMetrics' most prominent features:
Google Analytics 4 Support – supports version 4 of Google Analytics.
Customization – you have the ability to customize just about everything about the plugin.
eCommerce Capable – can track all basic and advanced eCommerce KPIs. 
Real-time Statistics – using this plugin, you have the ability to track your visitors and their actions in real-time.
Privacy Laws Compliant – GDPR/CCPA compliant plugin.
FAQ
Is Google Analytics a Plugin?
A: No, Google Analytics is a tool designed to provide tracking of key metrics of a website. However, a significant number of plugins exist that are designed to facilitate easy integration of Google Analytics. We've included a number of them in the above article. 
How to add Google Analytics to WordPress?
A: There are two main methods to adding Google Analytics to WordPress.
For those familiar with coding, you can do so manually. You can add the code to your header or footer.php file or via your functions file. Either way, the manually added code will remain only in your selected theme, and upon changing themes, it will disappear and will require re-introduction.
Alternatively, you can use any of the plugins from this list. The most significant advantage to using plugins is that it allows quick and easy integration of Google Analytics into your WordPress theme. All plugins are designed to automatically add the necessary code, thus becoming the preferred system, even among experienced users. 
What's The Real Difference between Free vs. Paid Plugins?
A: Usually, the main difference between opting for a free subscription versus a paid one for a particular plugin is the scope of features you will be entitled to. Free subscriptions usually only have essential functions, and more functions are unlocked as you apply for higher-cost subscription models. 
As to whether you should use a free or paid plugin, that's up to you. Consider your budget – how much do you need to start a marketing campaign? How much do you need to create content? Are you paying for a managed hosting service like Kinsta?
Answer these questions first, then filter your decision through the future plans of your website, and you will know if the cost of the subscription is worth it.
Conclusion
And, there you have it, folks, some of the best Google Analytics plugins for WordPress were designed by man. The key takeaway here is that all of these plugins are designed for seamless integration of Google Analytics features into WordPress websites, such that even people with no technical knowledge can integrate them with no trouble.
As to which plugin you'll pick? Well, that depends, what are your needs? What are you trying to track precisely, and what are the plans for your website? Start with creating a content strategy framework, and you'll soon realize what KPIs you need to track, and, from there, you'll know which plugin fits your needs best.